House Speaker Nancy Pelosi tore a copy of President Donald Trump's State of the Union speech in half Tuesday shortly after he concluded his address in the House chamber.
As is custom, Trump had given Pelosi, D-Calif., a copy of his remarks before he began the speech. But as soon as he was finished and while Republicans were cheering his remarks, she stood up behind the president and ripped the speech papers in half.
The unprecedented gesture was just one of many signs of contention between the two leaders and, more broadly, among members of both political parties.
Earlier in the evening, after Trump reached the lectern before starting his remarks, he did not shake Pelosi's outstretched hand. He went on to deliver a deeply partisan speech, prompting audible groans from Democrats in attendance at various points as Republicans often cheered loudly and chants of "four more years" rang out. At other points while Trump was speaking, Pelosi was seen shaking her head.
Trump's address comes amid his impeachment trial in the Senate, which will vote Wednesday and is widely expected to acquit the president on two articles of impeachment: abuse of power and obstruction of Congress.
Pelosi, leaving the House floor, said she tore up the speech "because it was the courteous thing to do, considering the alternative."The White House✔@WhiteHouse
Speaker Pelosi just ripped up:

One of our last surviving Tuskegee Airmen.

The survival of a child born at 21 weeks.

The mourning families of Rocky Jones and Kayla Mueller.

A service member's reunion with his family.

That's her legacy.147KTwitter Ads info and privacy80.3K people are talking about this
The White House responded to with scorn, claiming Pelosi was tearing up the Americans the president honored in his address.Nancy Pelosi✔@SpeakerPelosi
Democrats will never stop extending the hand of friendship to get the job done #ForThePeople. We will work to find common ground where we can, but will stand our ground where we cannot. #SOTU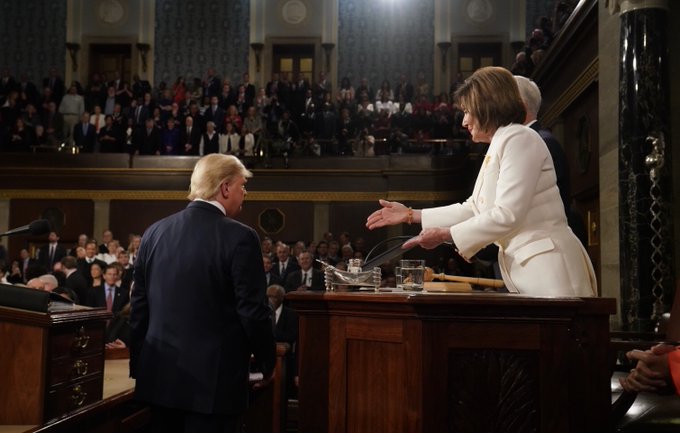 83.2KTwitter Ads info and privacy57.5K people are talking about this
Moments later, Pelosi tweeted in reference to the apparent handshake snub.
Per: NBC