2021 is almost over and now that we've covered the best sneaker designs and best Air Jordans, it's time to dive into a far less subjective list: the most expensive shoes of the year.
Unlike the other end-of-year lists, there were no heated debates around this one as it's all about the numbers. Which shoes are bringing in the most cash on the resale market? Some of the results may surprise you. Sure, the usual suspects are here, including numerous Off-White x Nike, Travis Scott x Air Jordan, and Supreme x Nike SB collabs, but there's also a few pairs that may surprise you—who really could've guessed the Gucci x Balenciaga Triple S would be here?
The resale prices featured in this list are based on StockX average sale prices as of publishing and may not reflect real time sales trends.
Whether you're looking for ways to blow some holiday cash or want to look back on some of your most valuable Ls of the year, we've got you covered. These are the most expensive sneakers of 2021.
10. Supreme x Nike SB Dunk Low Black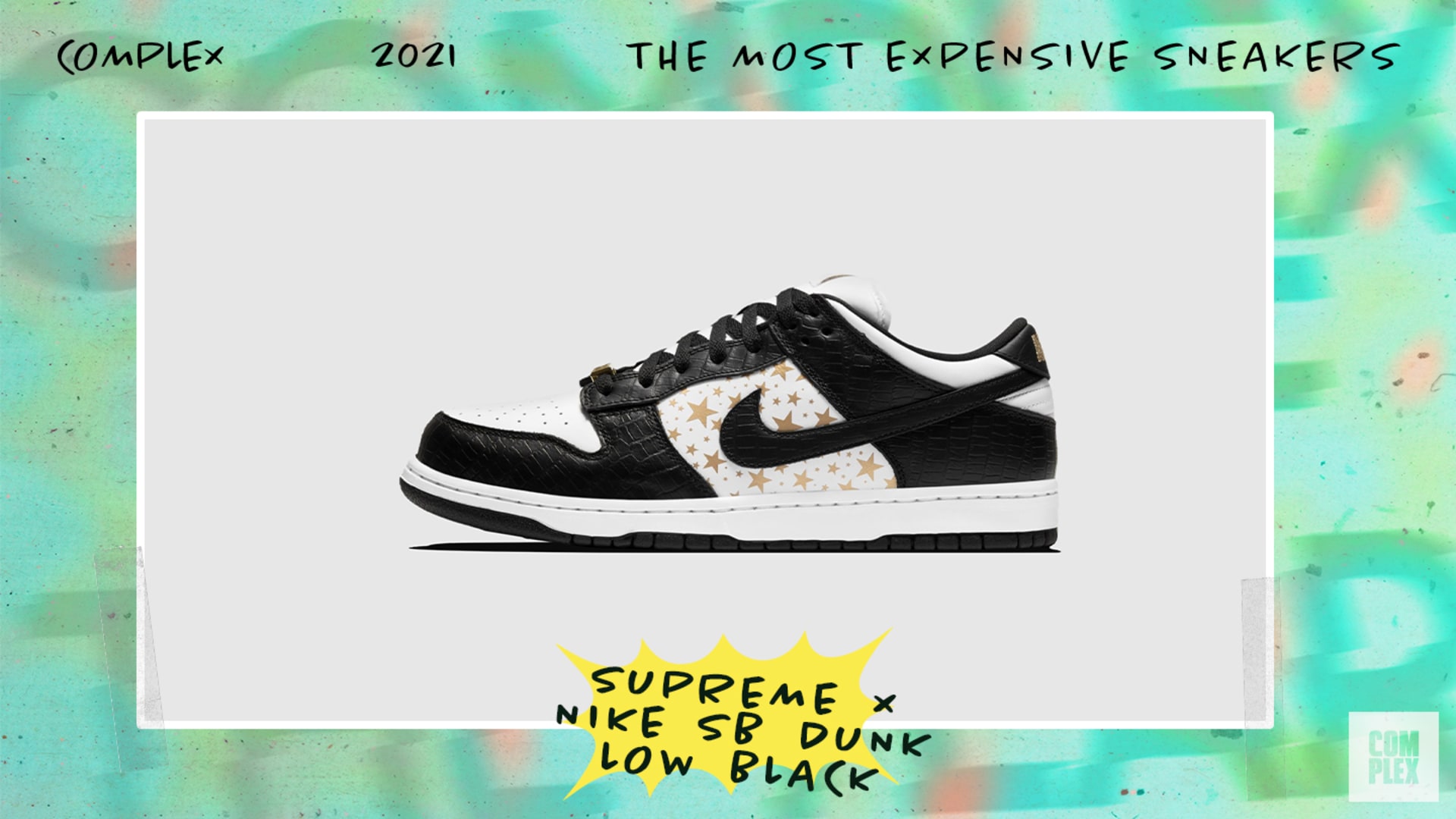 Resale price: $1,015
Retail price: $110
Release date: March 4
At this point, you are probably never getting the chance to own one of the original pairs of Supreme Dunks in either the Low Jordan 3 homage versions from 2002 or the starry High pairs from 2003. The fervor around SB Dunks in the past two years ratched the prices on those pairs up to new, unattainable highs. There was a chance, though, to cop some of the same feeling at the top of this year when Supreme created a sequel set to the Highs in Low form via these Dunks that used the same overall equation with faux reptile leather and celestial graphics. At this point, getting those feels pretty unlikely too—the black pair has an average selling price of $1,015. Not many of Supreme's recent Nike collaborations, which have often used less beloved silhouettes as their base, were as immediately expensive in resell circles as these, but it felt from the beginning like these Dunks were destined for top-shelf status. — Brendan Dunne
9. Supreme x Nike SB Dunk Low Hyper Royal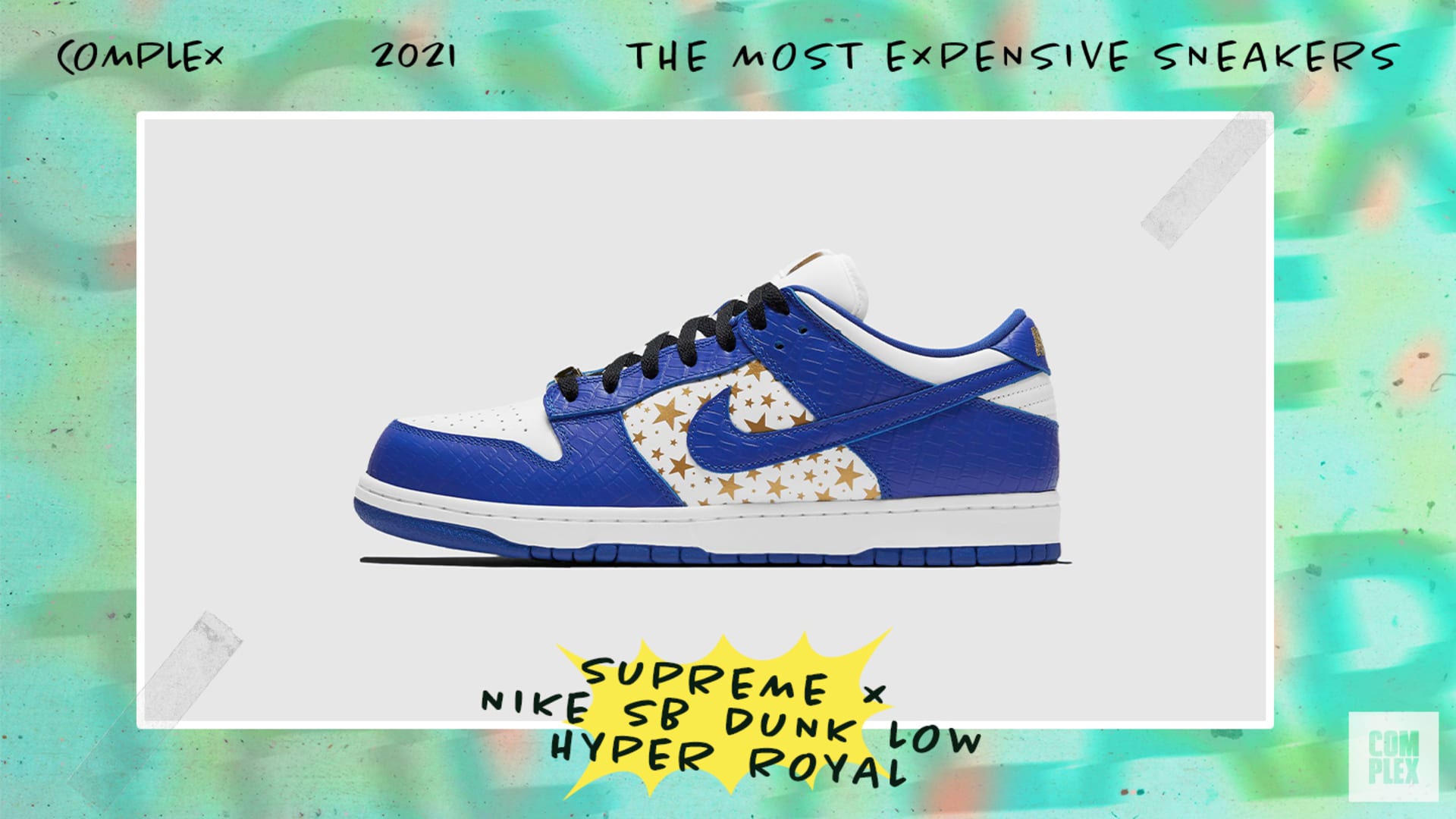 Resale price: $1,049
Retail price: $110
Release date: March 4
What more can we say about this shoe that hasn't already been said? When Supreme makes a Nike SB Dunk, it's usually a big deal. Revisit one of its early collaborations on the model, and it gets even bigger. Supreme released three Dunks this year that played off its 2003 "Stars" project, but swapped the Highs for Lows and changed up the colors. The one pair that fit in the most with the original trio was the blue pair. There was a light blue sneaker in the first release, and this shoe is reminiscent of that, albeit a few shades darker. These shoes go for a lot. It's not hard to figure out why. They're an SB Dunk (although it feels like that program is starting to die off again), they're a collaboration with Supreme, and it's a color that mostly everyone can agree on. Makes it an easy choice for hypebeasts who don't search far and wide to build their taste level, or for celebs who have cash to dole out and just want to be viewed as cool. Sounds like a winning formula to me. — Matt Welty
8. Off-White x Nike Dunk Low Lot 50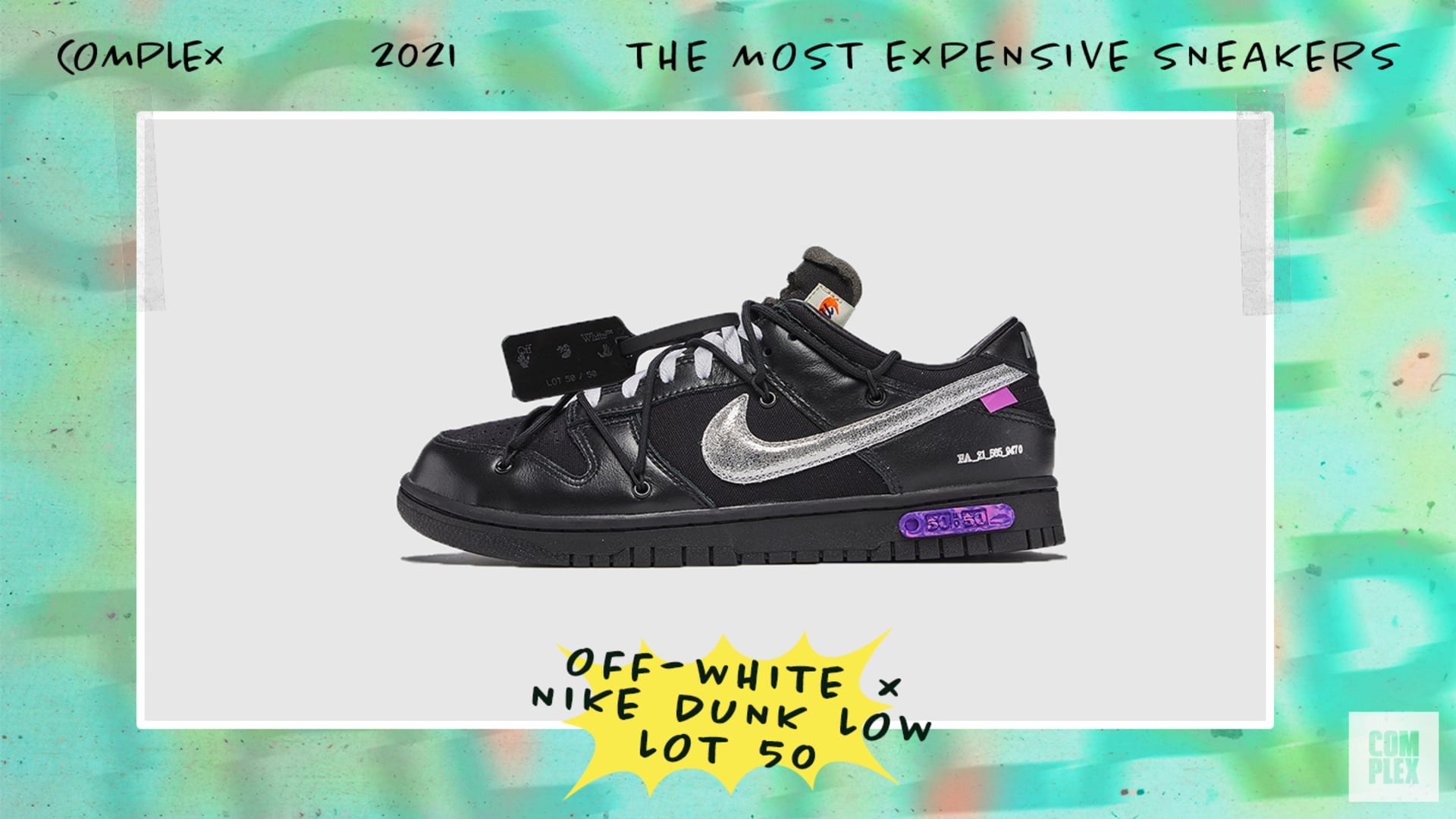 Resale price: $1,067
Retail price: $180
Release date: August 2
The entirety of Virgil Abloh's 50-shoe Off-White x Nike Dunk collection is more significant than any single pair, but the white Lot 1 colorway and black-based Lot 50 version stood out both aesthetically and in terms of resale pricing. The Lot 50, seen here, closely mimics the blocking of Abloh's "MoMA" Nike Air Force 1 collab (as does the Lot 1 with the "ComplexCon" AF1), utilizing a black midsole, outsole, and upper, with contrast coming by way of white laces and a metallic silver Swoosh. A purple "50 of 50" badge on the midsole sets the Dunk a bit further apart, as does a second set of black laces that weave over the standard set—although they're a bit harder to see on the tonal base. After an immediate jump when the 50-shoe set first released, prices of the Lot 50 version were fairly steady throughout the year in the $800-$900 range, but started climbing following Abloh's unexpected passing. — Zac Dubasik
7. Supreme x Nike SB Dunk Low Barkroot Brown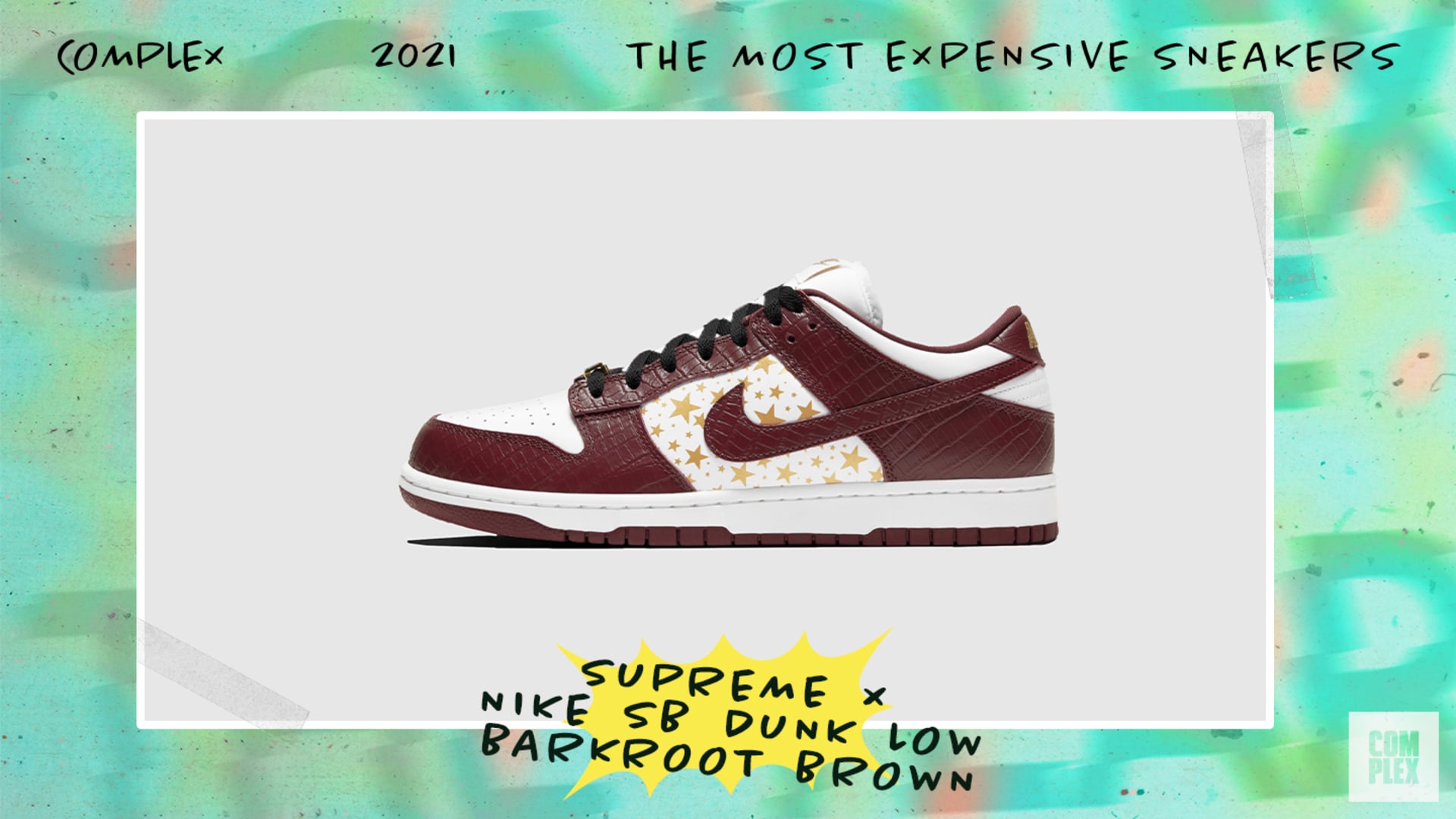 Resale price: $1,083
Retail price: $110
Release date: March 4
Over 15 years later and Supreme's Nike SB Dunks from 2002 and 2003 are still among some of the streetwear brand's most celebrated projects of all time. Couple that history with the resurgence that SB Dunks have experienced in recent years and it should come as no surprise that a Supreme x Nike SB project was one of 2021's most valuable releases. The pairs fused the aforementioned drops from the aughts into one cohesive vision, the faux reptile skin overlays and gold-starred quarter panels first introduced on 2003's Dunk High now covered its low-top counterpart. Rather than simply repurpose the OG colorways—baby blue, orange, and red—Supreme opted for some bright hues that felt more timely. Among the standouts were a slime green option and this not-quite-burgundy-not-quite-brown "Barkroot Brown" pair. Considering so many of Supreme's Nike collabs these days use obscure silhouettes as the canvas, it was nice to see the streetwear powerhouse give a nod to its past like this. Unfortunately, that also means these are much harder to afford than, say, Supreme's Cross Trainer Low collab from this past October. Kudos to anyone who was able to snag these on release day. — Mike DeStefano
6. Off-White x Nike Dunk Low Lot 1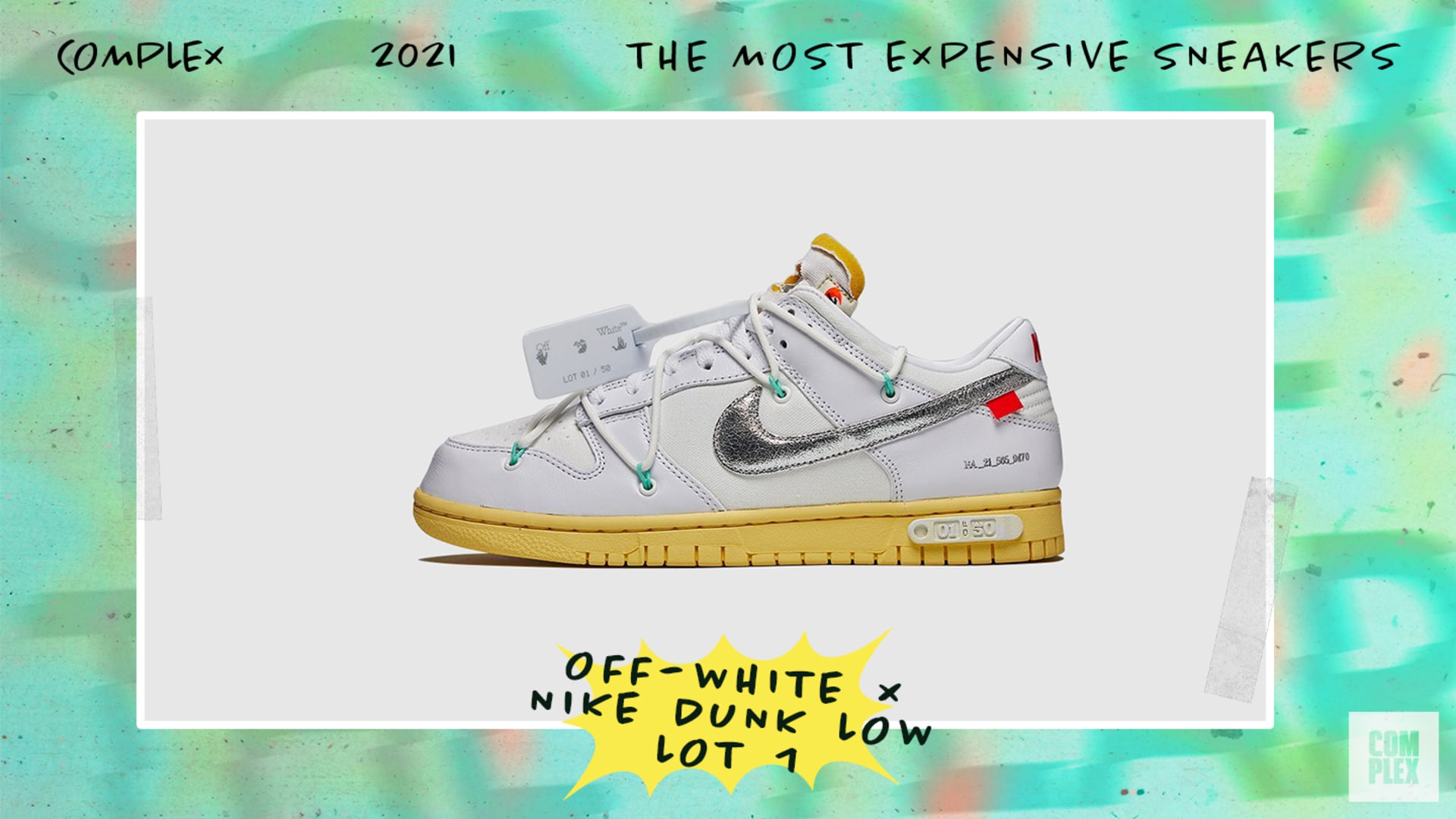 Resale price: $1,170
Retail price: $180
Release date: August 2
Virgil Abloh's Off-White x Nike Dunk Low collection comprised 50 different colorways, but there were two clear outliers in terms of aftermarket price: Lot 1 and Lot 50. The bookends of the collection were the simplest of the bunch, with this Lot 1 version taking on a simple white, metallic silver, and butter color scheme that winds up looking like an aged white leather Dunk finished off with Abloh's signature touches. There's a silver Swoosh reminiscent of his work on the Air Force 1, cutout holes in the foam tongue, and an extra pair of overlaid cord laces. It's one of the strongest depictions of Abloh's old-meets-new approach and was already one of the most expensive pairs of the year before his untimely death. The prices are trending upward and it's hard to say where they'll land, but for now, the Off-White x Nike Dunk Low Lot 1 lands at an average sale price of around $1,200. — Riley Jones
5. Travis Scott x Fragment x Air Jordan 1 Low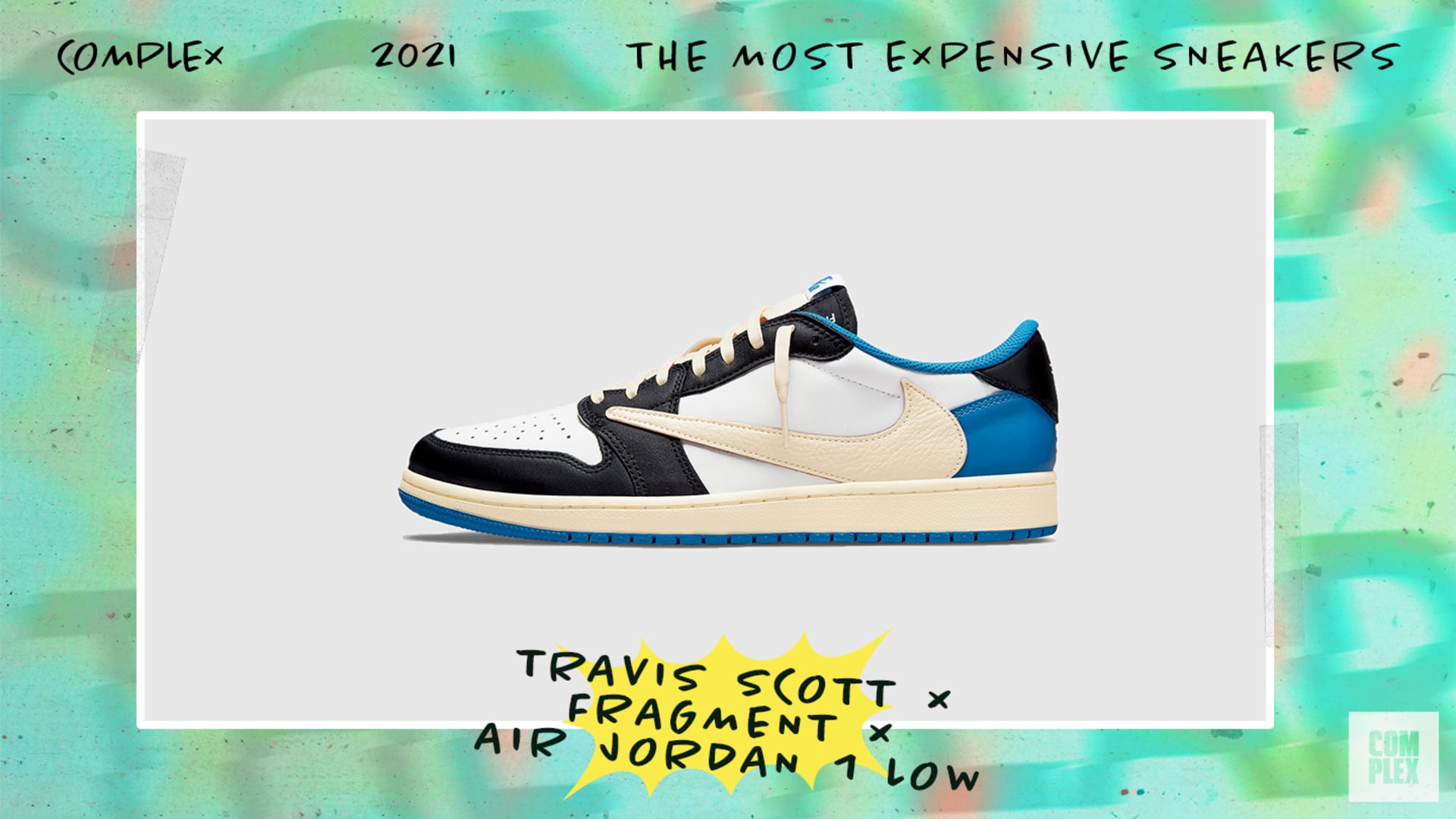 Resale price: $1,360
Retail price: $150
Release date: August 13
I've always thought these were the better of the two sneakers from this collaboration. The colorway is better, in my opinion, and I'd much rather wear an Air Jordan 1 Low than High. But that's just me. Look, it's not a surprise that a Travis Scott Air Jordan 1 is going for a lot of money. Even less of a surprise is that the one in collaboration with Hiroshi Fujiwara's Fragment is valuable, especially since it's based off of Fragment's previous project on the Air Jordan 1. Checks all the boxes. It is still surprising that people are currently shelling out boatloads of cash on a Travis Scott sneaker, given the recent tragedy that occurred at his Astroworld performance. Save yourself some money and go for another grail right now. Or better yet, spend that money on others; it is the holiday season after all. — Matt Welty
4. Supreme x Nike SB Dunk Low Mean Green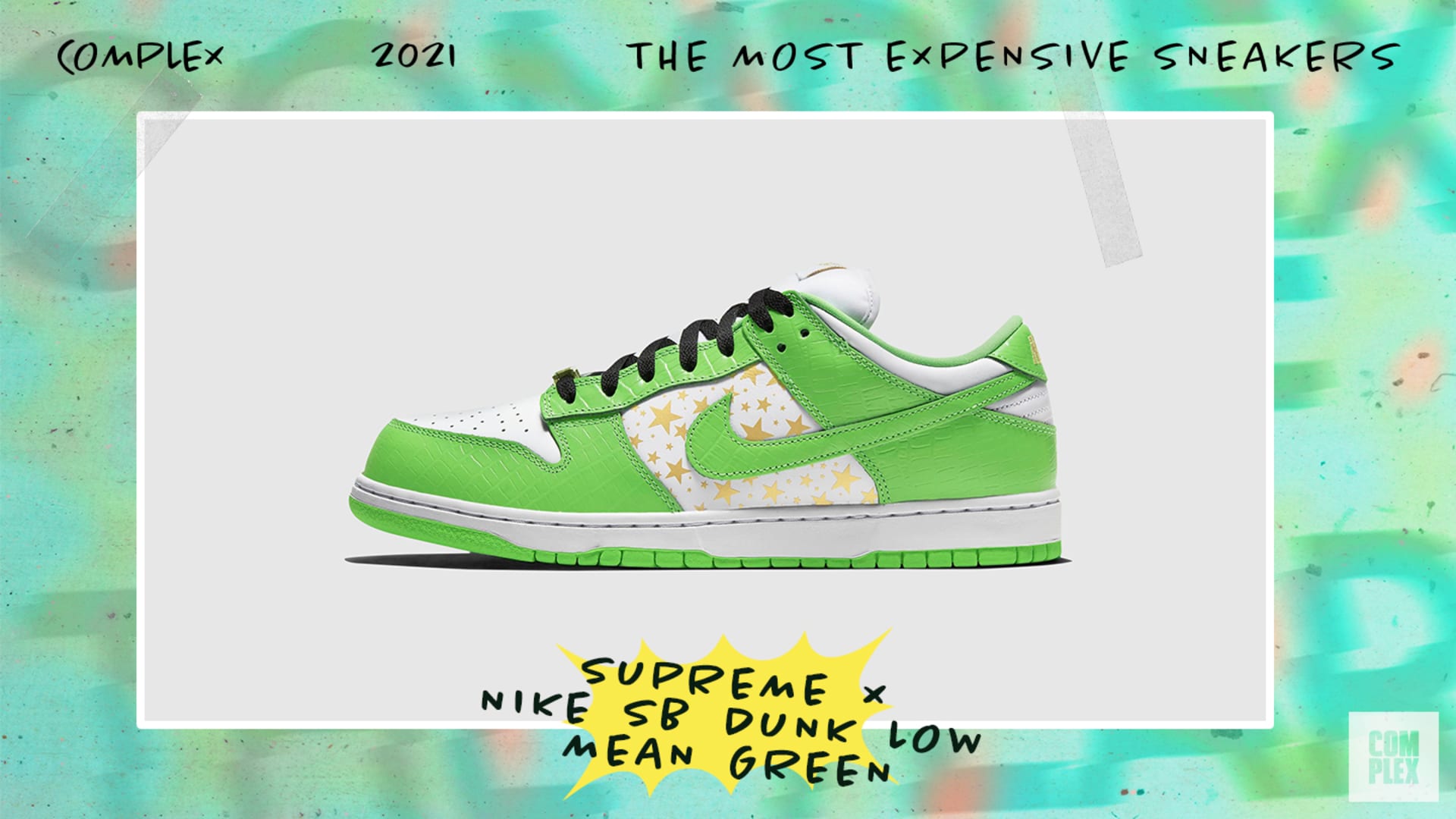 Resale price: $1,421
Retail price: $110
Release date: March 4
The Nike Dunk was arguably one of 2021's most popular silhouettes, with the brand dropping what seemed like a new colorway or two each and every week throughout the year. But unlike 2020, less of them were coming from the SB line. Supreme's revisitation of its 2003 Dunk High collab, in low-cut form, was an exception to the trend. The four different colorways each brought back the croc-skin overlays and gold star print of the originals, and all sold out immediately. The "Mean Green" version, however, stood out the most both literally and figuratively. The bright look has become something of a staple of modern-era Supreme projects like 2017's Air Humara and the Air Max Plus from 2020. And while prices on the "Mean Green" Supreme x Nike SB Dunk Low have leveled out some over the year, they hit over $2,600 in the months following their March release. — Zac Dubasik
3. Gucci x Balenciaga x Triple S 'The Hacker Project'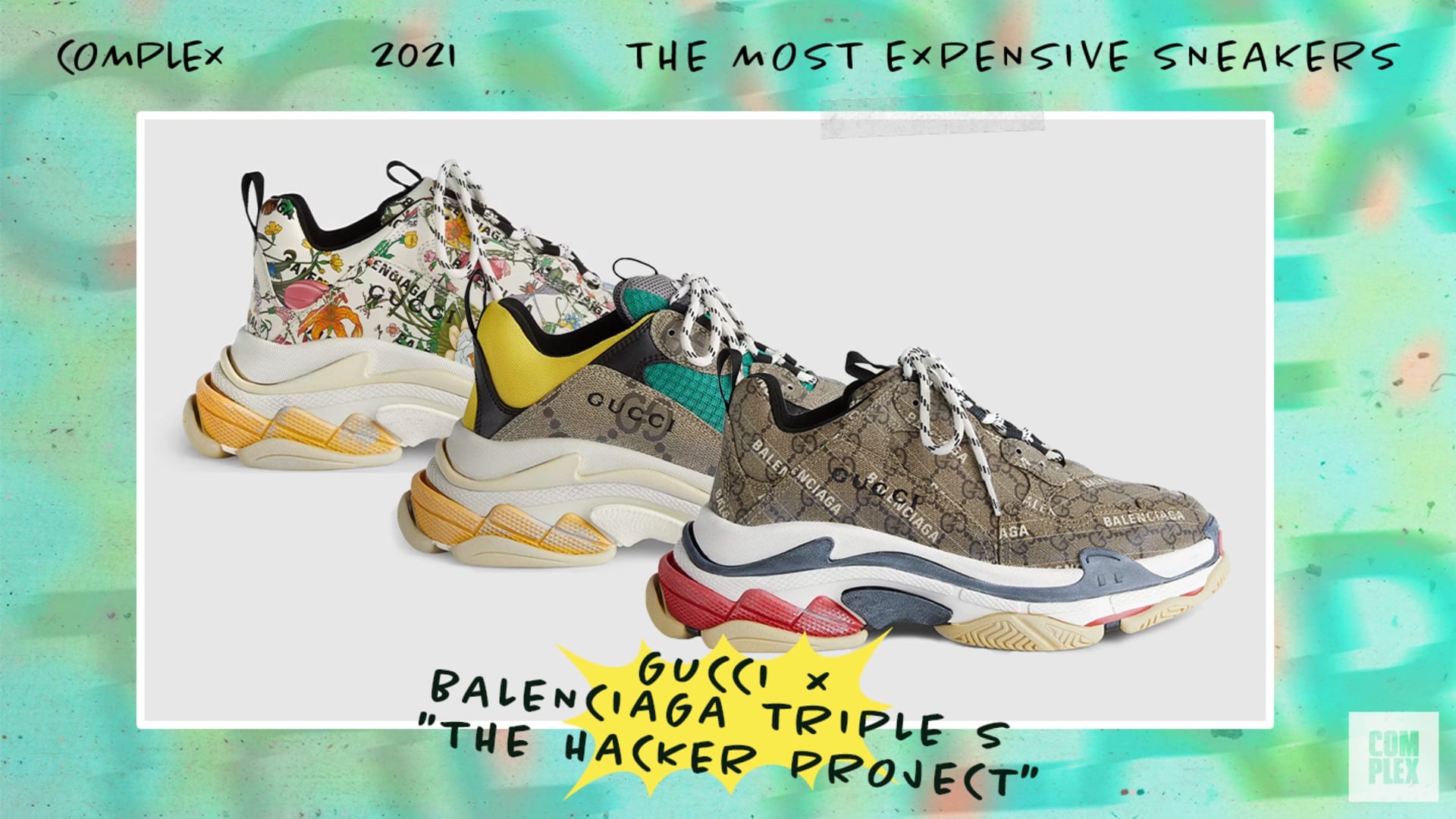 Resale price: $1,409-$1,477
Retail price: $1,290
Release date: November 15
Luxury sneakers are already expensive as is. A Balenciaga Triple S usually retails for around $1,150. The hefty price tag, coupled with the aggressively bulky appearance of Balenciaga's infamous design, have made it an easy sneaker to scoff at for plenty of individuals. But that doesn't mean that the Triple S doesn't still have its supporters. Earlier this year Demna Gvasalia upped the unorthodox level of the chunky lifestyle sneaker when he introduced the "Hacker Project," an official collaboration with Gucci. Even in a fashion landscape where collabs are king, it isn't exactly commonplace to see two of the world's biggest fashion houses join forces, so this one was already an attention-grabber from the start. This definitely isn't a shoe for everyone. But the numbers don't lie. When a $1,290 sneaker flips for more money, somebody out there is excited about it. — Mike DeStefano
2. Trophy Room x Air Jordan 1 High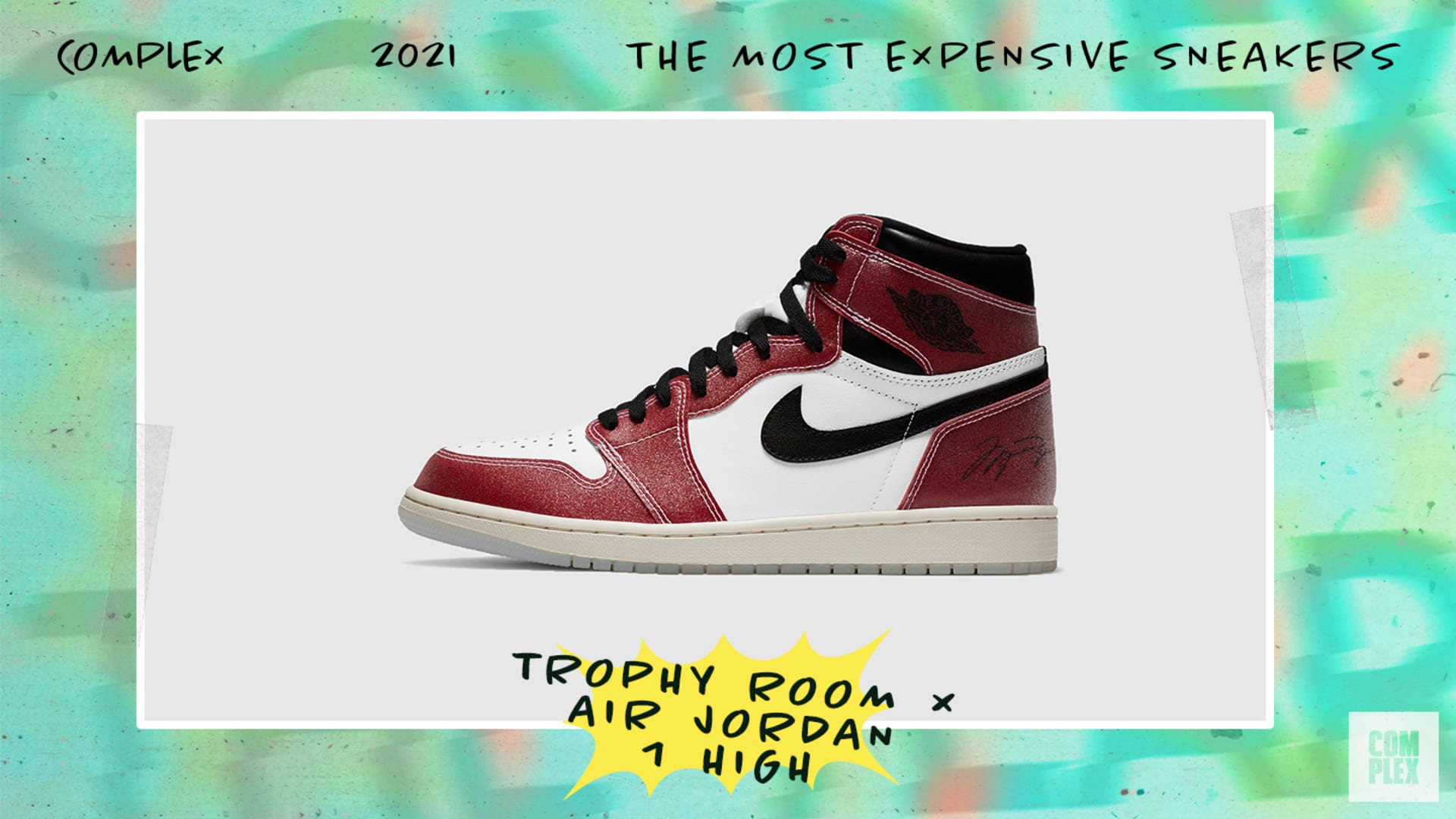 Resale price: $2,640-$3,113
Retail price: $190
Release date: February 10
Given the shenanigans that accompanied the rollout, it's not a surprise that the Trophy Room x Air Jordan 1, a collaboration with the store owned by Michael Jordan's son Marcus, ended up being one of the year's most expensive sneakers. Whether it's the friends and family version with blue laces or the standard pair, the shoe will generally cost you between $2,000 and $3,000. The collaboration's release was the year's most controversial, with a number of pairs being flaunted on social media by resellers ahead of the official launch. While we can't confirm any backdoor speculation with certainty, the actual drop didn't do much to build back the trust of sneakerheads. An online email raffle was conducted, and a single exclusive-access drop took place on SNKRS, but those were the only opportunities people had to pick them up. Mix this hyper-exclusivity with a well-executed backstory based around one of the Air Jordan 1's most desirable colorways and it's not hard to understand the demand for these, no matter how you feel about the way the release took place. — Riley Jones
1. Travis Scott x Fragment x Air Jordan 1 High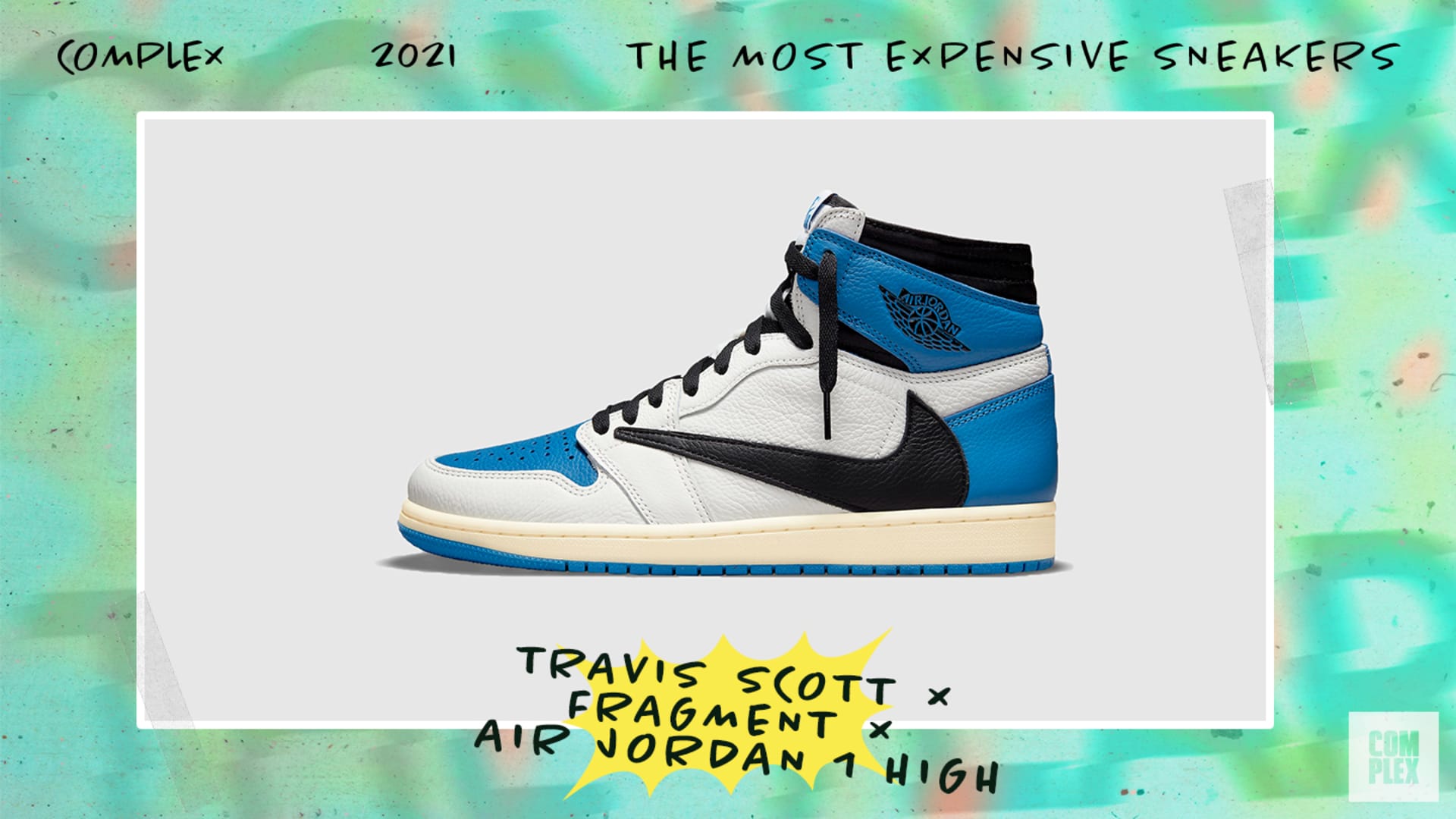 Resale price: $3,283
Retail price: $200
Release date: July 29
There was no world (Astro included) in which this sneaker was not going to go for a ton of money on the secondary market. Sometimes entries on this last can be surprising—there are shoes that end up being more limited and sought after than originally anticipated, which sends their value up. This is not one of them. Fragment's version of the Air Jordan 1 from 2014 is already one of the hardest-to-find and most expensive colorways for that sneaker, and Travis' involvement only added to the hype. There are not many Cactus Jack collaborations that don't end up fetching several times their original retail price on secondary markets. Plus, the Air Jordan 1 in general is still enjoying a sustained era of pop culture popularity that it's never really experienced before in retro form. Jordan Brand, Jacques Webster, and Hiroshi Fujiwara knew exactly what they were doing with this one. — Brendan Dunne
Per: Complex
Price: $220When: Tuesday, Dec. 21 at 10 a.m.Where: adidas.com and other select retailersWhat You Need to Know: The latest colorway of Pharrell's NMD Hu is also the latest collaboration with his iconic streetwear brand, BBC ICECREAM. This particular pair is dressed in a ribbed khaki green knit upper with brown detailing on the heel and lateral midsole insert. A large version … Continue reading Sneaker Alert: Pharrell x BBC ICECREAM x Adidas NMD Hu
Price: $220When: Wednesday, Dec. 22 at 10 a.m.Where: Yeezy Supply, adidas.com, and other select retailersWhat You Need to Know: A stealthily take on the Yeezy Boost 350 V2 is debuting to close out 2021. Dubbed the "MX Rock" colorway, the pair's Prime knit upper is covered in a black and brown variation of the pattern that has become commonplace on … Continue reading Sneaker Alert: Adidas Yeezy Boost 350 V2 'MX Rock'
After New Balance had one of its biggest years ever last year, the brand is looking to keep that momentum going in 2021. A big part of that push includes the return of the made-in-USA 990v3 model, the third iteration of the fan-favorite 990 line which hits its 40th anniversary next year. To kick off … Continue reading Sneaker Alert: The Best Sneakers of 2021!