Historically, access to exclusive Air Jordans for women has been limited. In recent years, however, that trend has begun to change. By calling in collaborators such as Aleali May and Olivia Kim, among others, Jordan Brand has begun creating coveted colorways designed by and made for women.
The origin story of female-focused sneakers dates back to 1998 when the Women's Air Jordan OG debuted. The brand expanded its women's offerings in 2001 through a series of retros—specifically the "Citrus," "Metallic Silver," and "Pink Snakeskin" Air Jordan 11 Lows.
This holiday season, that legacy continues with the WMNS Air Jordan 1 Retro High OG SE "Atmosphere" release. In celebration of the upcoming drop, we've rounded up the best women's-exclusive Air Jordans available now on GOAT.
WMNS Air Jordan 12 Retro Low 'Real Pink'
Arriving as a mid-top model over the course of the 1996-97 NBA season, the Air Jordan 12 was revised and released as a low-top in 2004. Made popular on court by Mike Bibby, the below-ankle retro still proved popular at retail.
Over the years, Jordan Brand experimented with bold color stories, including the WMNS Air Jordan 12 Low "Real Pink," which turned heads thanks to its nontraditional colorway. While this 2004 take was cut and crafted with a female consumer in mind, many male hip-hop fans—enamored with pink shades endorsed by Cam'ron and Kanye West—bought them a size and a half up so they could get in on the action.
A Ma Maniére x WMNS Air Jordan 3 Retro SP 'Raised By Women'
Michael Jordan's mother, Deloris, may have been the one who convinced the young superstar to take a meeting with Nike in 1984, but it was Tinker Hatfield's Air Jordan 3 that convinced Jordan to stay long term.
Originally released in 1988 and finding new life as a retro staple, the Air Jordan 3 has transcended themes and generations. James Whitner's A Ma Maniere x WMNS Air Jordan 3 Retro SP "Raised by Women" shows love to the mothers like Deloris Jordan in both sentiment and sizing. Today, it stands as one of the most admired shoe releases of 2021.
Olivia Kim x WMNS Air Jordan 4 Retro 'No Cover'
The Air Jordan 4 "Black Cat" was ahead of its time when it launched in 2006. In an era obsessed with loud streetwear and bright sneakers, few brands had the foresight to understand the strength of a stealthy retro dressed in all black.
In 2019, the Olivia Kim x WMNS Air Jordan 4 Retro "No Cover" doubled down on that notion with "Black Cat," draping the court classic in bovine fur. While an on-the-nose homage to the '06 retro returned just one year later, this ladies launch from Kim proves stronger, smarter, and sleeker.
WMNS Air Jordan 5 Retro 'Stealth'
In 1990, Tinker Hatfield designed the Air Jordan 5 to match Michael Jordan's ferocious playing style, taking inspiration from the aggressive stance of American WWII fighter planes. By 2006, the model had long since become a retro favorite, rolling out in striking colorways for a new era of expression.
The WMNS Air Jordan 5 Retro "Stealth," in particular, stood out because of its smooth and sparkling contrast. An all-grey upper benefited from unexpected pops of pink, reimagining the lining, branding, and fighter jet teeth of the striking silhouette.
WMNS Air Jordan 11 Retro Low 'Pink Snakeskin'
The 2001 debut of the Air Jordan 11 Low Retro was a major moment for Jordan Brand. By officially releasing a design originally for Michael as a player exclusive, the line introduced something that was rooted in performance but lifestyle in appearance. To many, the WMNS Air Jordan 11 Low Retro "Pink Snakeskin" was the best of the bunch. First seen in 2001 and brought back in 2019, this pioneering pair still evokes a sense of nostalgia and turns heads wherever it goes.
WMNS Air Jordan 8 Retro 'White Aqua'
The WMNS Air Jordan 8 "Aqua" was a watershed moment in 2007. Not only did it introduce a women's exclusive to the market that was eerily similar to a Chris Paul exclusive, it laid the foundation for "White Oreo" 4s and "Black Grape" 5s to follow years later.
Brought back in 2019, this retro release is just as good the second time as it was the first. Revising the "Aqua" colorway introduced by Michael Jordan at the 1993 NBA All-Star Game, this white leather revamp for the ladies stands out as an all-time classic.
WMNS Air Jordan OG Retro 'White' 2020
As the newly formed Jordan Brand anticipated a time without Michael Jordan playing pro basketball, it was clear they had a hunch that the future was female. In 1998—the same year Jordan played his last game as a Bull—the brand released the WMNS Air Jordan OG as a statement on the next generation of hoops.
Inspired by the Air Jordan 13 of that era but cut and crafted for the female foot, this brazen basketball shoe was worn by ballers who wanted to be like Mike yet never had his shoes made to their specifications. In 2020, the model returned as a blast from the past, doubling as a statement to how far the game and the perception of women's basketball had come.
Aleali May x WMNS Air Jordan 14 Retro Low SP 'Fortune'
Celebrity stylist Aleali May has more range than the NBA's best sharpshooters. Well versed in the lanes of sportswear, fashion and jewelry, May blends all of these worlds together on her collaborative sneakers.
Such is the case on the Aleali May x WMNS Air Jordan 14 Low Retro "Fortune" from 2021. Inspired by a gold bracelet her grandmother gave her, this sporty silhouette from 1999 is made modern through sandy suede on the upper and jade marbling on the midsole.
WMNS Air Jordan 1 Retro High OG SE 'Atmosphere'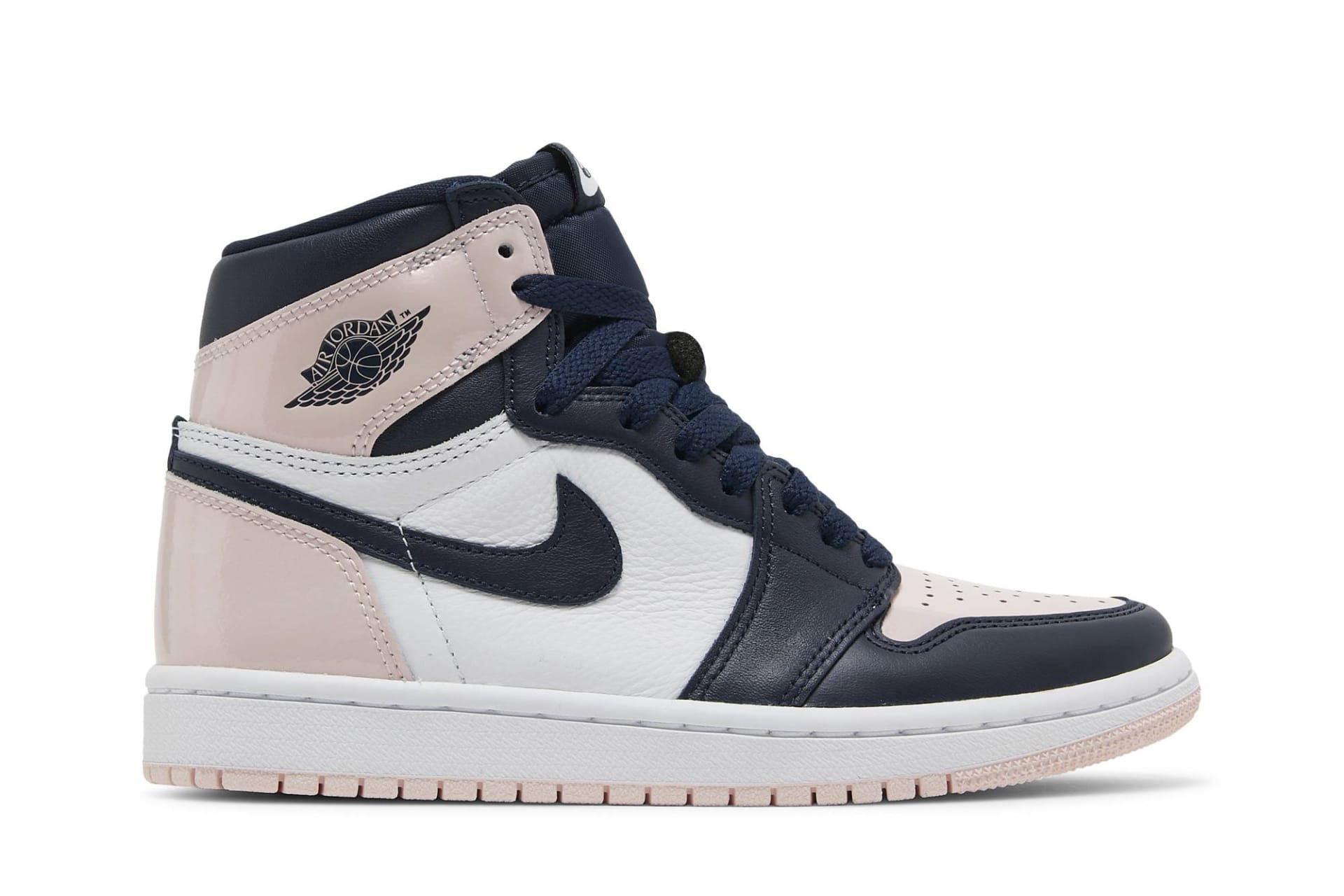 When the Air Jordan 1 debuted in 1985, colorways corresponded to the Chicago Bulls' uniform, while sizing was limited to men's and boy's sizes. Although the model expanded into metallic tones months later, it wasn't until the 2010s that truly sought-after styles of the Air Jordan 1 were sized, scaled, and allocated specifically for women.
In 2021, the WMNS Air Jordan 1 Retro High OG SE "Atmosphere" showed that not only are ladies now securing exclusive colorways of the archival model, they're getting some of the best makeups. Pops of laser pink patent leather set off the heel and ankle collar on this pair, strengthened by obsidian panelling for an aesthetic that's both fun and focused.
Per: Complex