After New Balance had one of its biggest years ever last year, the brand is looking to keep that momentum going in 2021. A big part of that push includes the return of the made-in-USA 990v3 model, the third iteration of the fan-favorite 990 line which hits its 40th anniversary next year. To kick off the 990v3 comeback, New Balance tapped longtime partner Bodega to celebrate a milestone of its own as 2021 marks the Boston store's 15th year in business.
The sneaker Bodega cooked up is one of its best yet. Designed to be a timeless look suited for everyday wear, the shoe mixes dark olive pigskin suede and mesh with a golden tinge and a dash of grey representing New Balance's signature color. There are orange and teal hits that liven up the look, and there's also a set of alternate blue laces to further break things up.
To still be holding it down after 15 years is an impressive achievement on its own. But the fact that Bodega is still at the top of its game and delivering some of its best work rather than simply phoning it in speaks to just how much pride they take in what they do. Here to stay, indeed. — Riley Jones
9. Nike Air Max 90 'Bacon'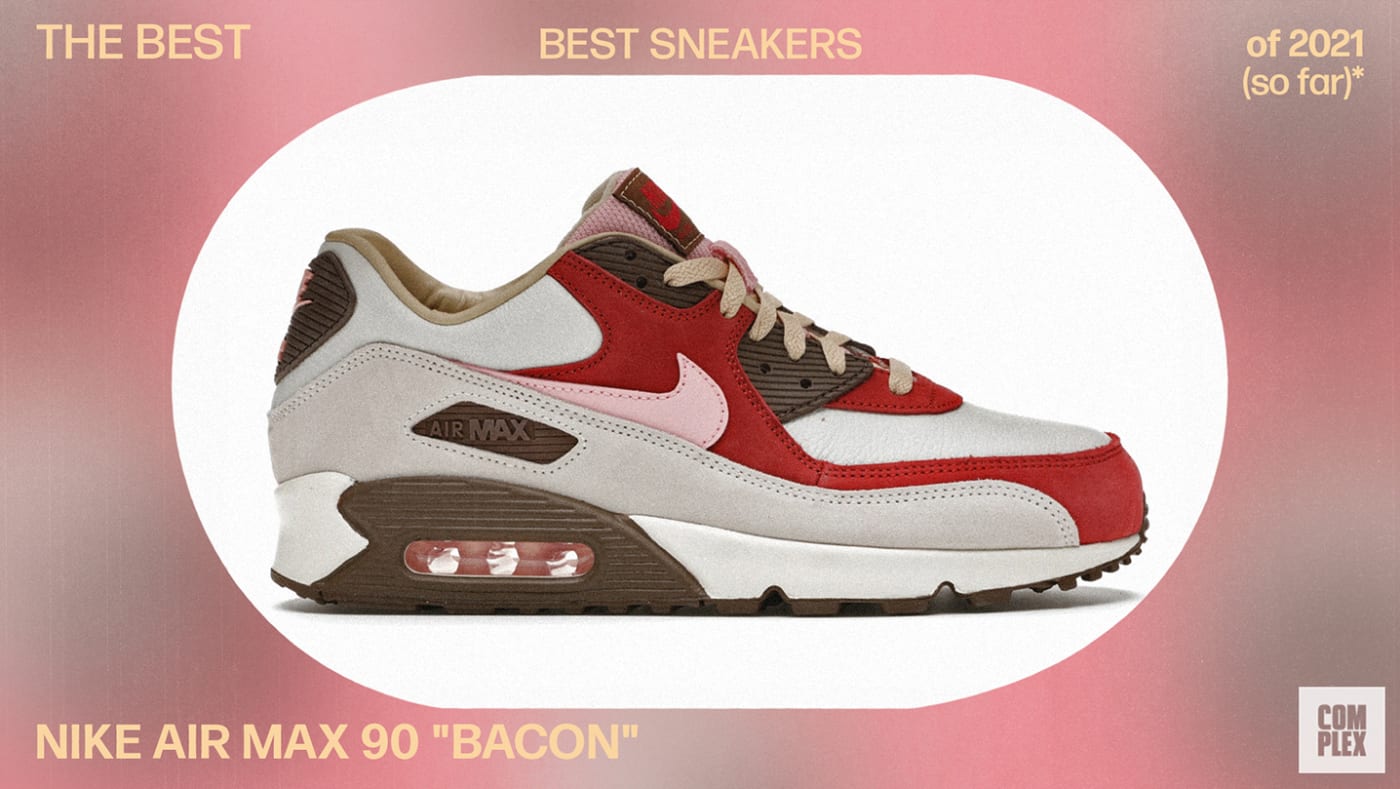 Release Date: March 26
Price: $140
The charm of Air Max Day, Nike's invented holiday on March 26 that serves as a prolonged marketing blitz for one of its most iconic sneaker lines, has waxed and waned over the years. There have been memorable sneaker releases new and old—Sean Wotherspoon's collaboration is a modern classic and the return of the elephant print Atmos x Nike Air Max 1 was welcomed to longtime collectors—but there have also been a decent amount of duds. Part of this owes to the ramped up expectations that come with the yearly celebrations as Nike draws the festivities on longer and longer. Sometimes in that dance, all the extracurriculars, all the brand activations and painstakingly planned community events can feel secondary to the actual product. The events were relatively quiet this year with COVID-19 restrictions lingering, meaning more focus on the best Air Max shoe that's released in recent memory—this retro of the "Bacon" Air Max 90 from now-shuttered New York City sneaker boutique Dave's Quality Meat (known sometimes as DQM, depending on whose lawyers you're talking to).
We try not to give too much credit to straight retros on lists like this as they are not exactly daring releases. Still, the "Bacon" Air Max 90 managed to be exciting upon its re-entry into the market this year as a relic and reminder of how much the limited-edition sneaker world has changed since its debut in 2005. Decades removed from its debut, the brown and pink pair remains a solid shoe, the kind that many second generation collectors lusted after for years online. This slab of bacon footwear is as tasteful and tasty now as it was back then. — Brendan Dunne
8. Bad Bunny x Adidas Forum Low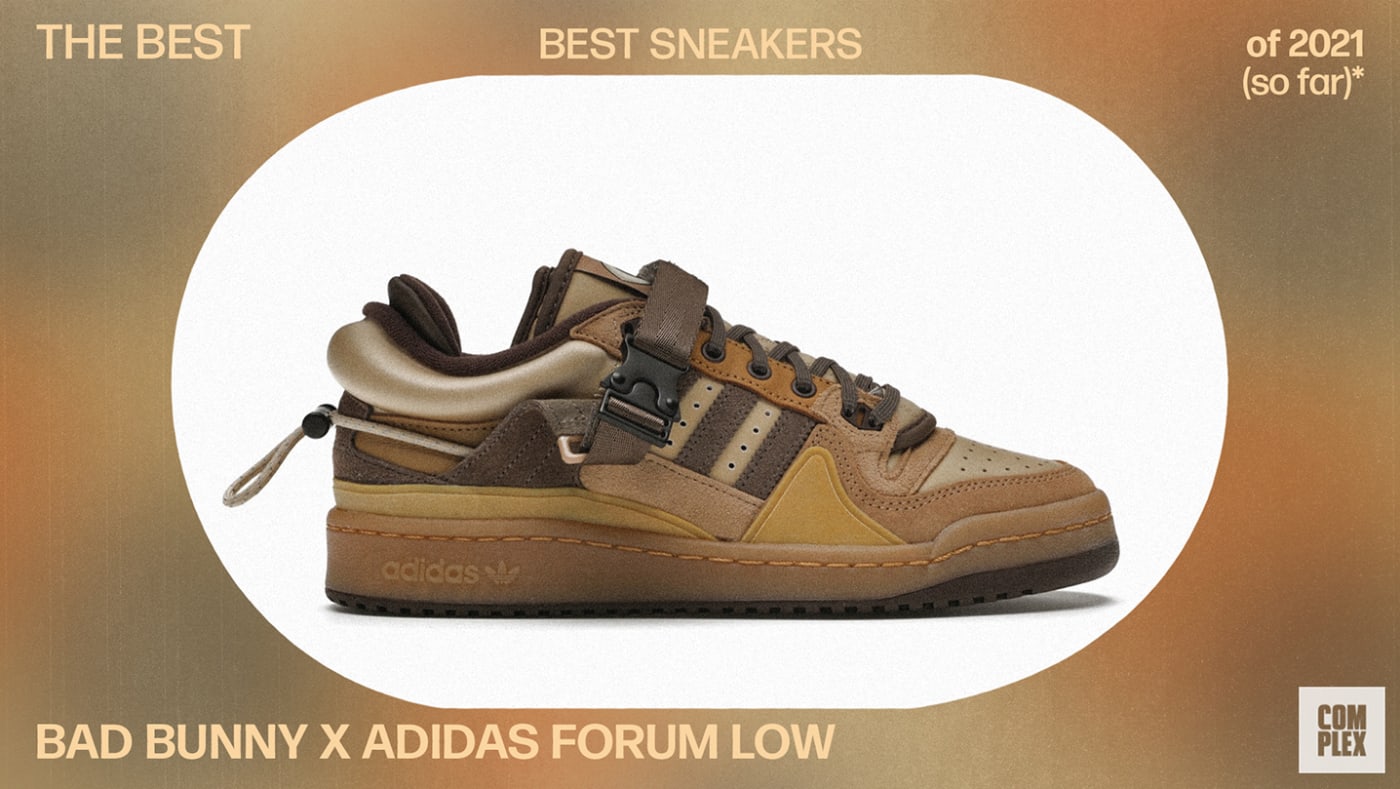 Release Date: March 17
Price: $160
Aside from Kanye West's Yeezy output, Adidas doesn't quite have the same level of hype surrounding it as it did a few years ago amid Boost hysteria. But that doesn't mean that the brand isn't still capable of producing a hit, and it proved that by debuting its collaboration with Bad Bunny earlier this year. The Latin trap superstar linked up with the Three Stripes for his own version of the Forum, a retro sneaker that in its OG form currently has a bit of juice in the marketplace too, dubbed the Forum Buckle Low. The remixed model takes cues from the world of skateboarding with an extra padded tongue and heel. It also includes subtle differences like a double-layered tongue, toggle cord system wrapping the heel, and the addition of a utility buckle to the strap that gives it a bit of a luxury feel (perhaps inspired by Matthew M. Williams' signature rollercoaster buckles).
So far, we have seen a brown colorway inspired by Bad Bunny's love for coffee, and a pastel pink pair for Easter, hit retailers, with an all-black variation on deck in the near future. While the shoe is good on its own, Bad Bunny's big 2021 has obviously helped it. He's worn the sneaker in his music videos viewed over 89 million times and in the squared circle during his well-received run with the WWE that culminated in a memorable match at WrestleMania 37 back in April. Simply put, Bad Bunny is a global superstar who plenty of people idolize. Quite honestly, we don't even realize the full magnitude of it in the states either, despite how popular he is here too, but there are few acts bigger than he is at the moment. Adidas has well-documented success collaborating with musicians. Adding Bad Bunny to its roster is just another step in the right direction that already seems to be paying off. — Mike DeStefano
7. Travis Scott x Air Jordan 6
Release Date: April 30
Price: $250
Is this a totally anticipated Travis Scott sneaker? Sure, anyone with a cursory knowledge of the rapper's Nike output probably could have figured out the same equation of colors and nappy suede knowing his past work. Is it a sequel sneaker and hence not as exciting as the first go-round of the Travis Scott x Air Jordan 6? Absolutely, the new colorway is cool but we've seen most of this build before.
So then, what is it doing here on this list of the best sneakers of the year so far? Predictable though it may be, it's still an important entry into the footwear catalog of one of the most important rappers in the world right now. Not too many people are doing interesting things with the Air Jordan 6 right now either, so Travis deserves credit for the Cactus Jack embrace of a model that was held in higher esteem about a decade again, even if this iterative approach is not entirely, ahem, lit. — Brendan Dunne
6. Adidas Yeezy 450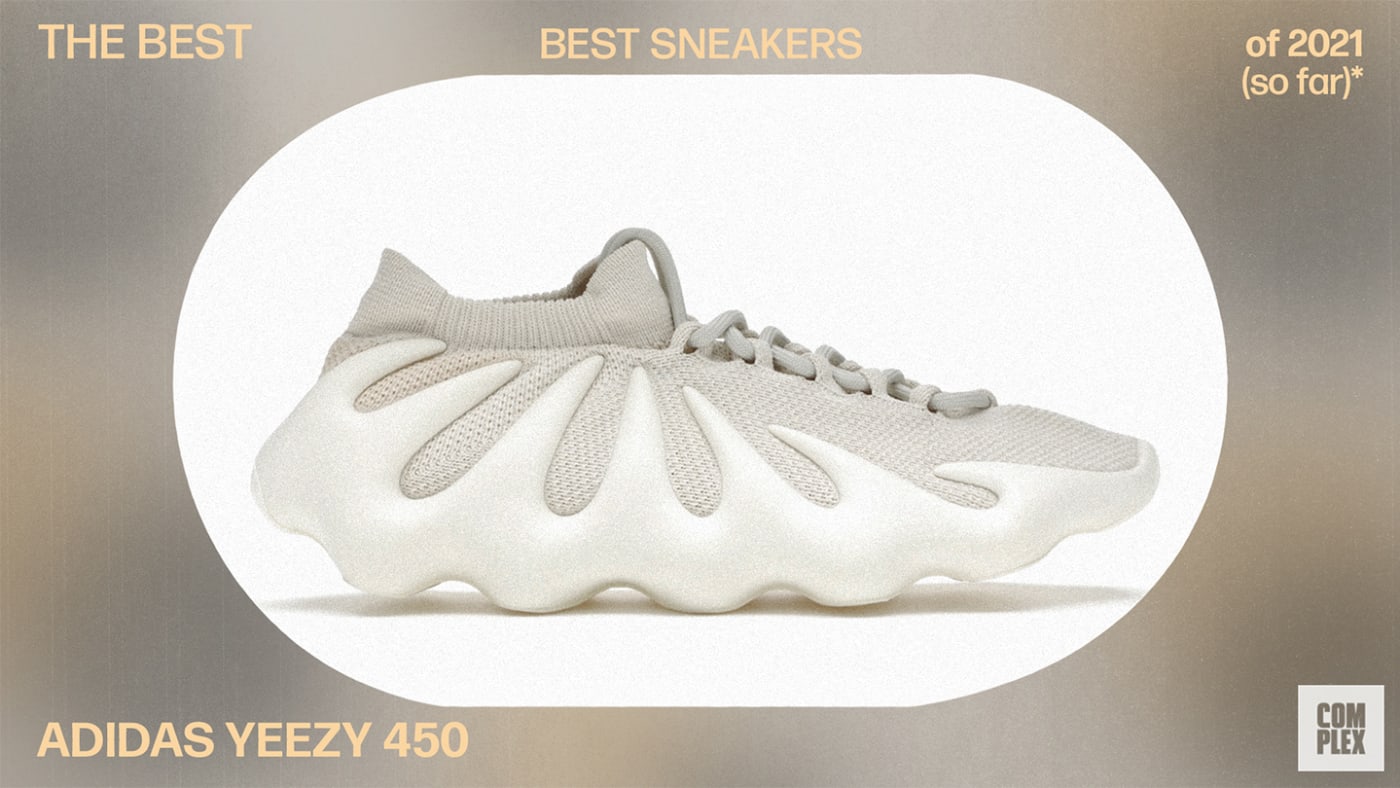 Release Date: March 6
Price: $200
Year in and year out it seems like Kanye West and his team of Yeezy designers come out with a controversial new silhouette that finds its way onto these lists. Controversial in the sense that the polarizing designs push the boundaries of what most people perceive as traditional footwear. This year West dropped the Adidas Yeezy 450. Across the internet it has both been revered for its unique aesthetic as well as mocked for its likeness to that of a dumpling. But no matter how you feel about the 450, it did what all Yeezys tend to do these days: sold out immediately and sparked conversation. On top of selling out to the public, it became a quick favorite of celebrities, seen on the likes of Kim Kardashian, Bella Hadid, and more. So much of what we see today in terms of popular footwear is a new colorway or a new collaboration on sneakers that have existed for three or even four decades. In a world where most releases are a new take on the same thing, West and the 450 are deservedly being recognized for pushing the envelope once again. — Ben Felderstein
5. Undefeated x Nike Kobe 5 Protro 'Hall of Fame'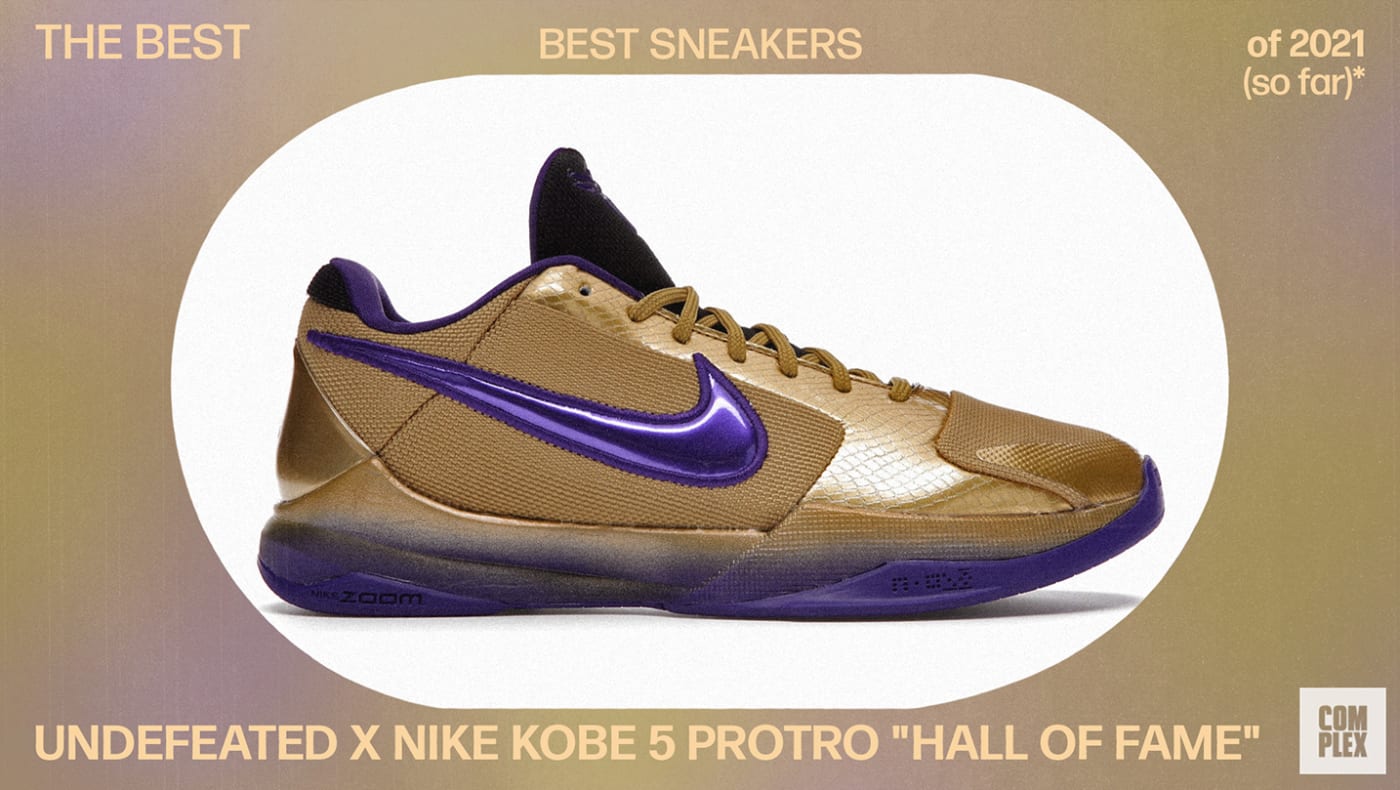 Release Date: May 15
Price: $190
The all-gold Undefeated x Nike Kobe 5 Protro was first spotted back in fall of 2020, and to say a lot has happened since then in the Kobe Bryant sneakersphere would be quite an understatement. Most notable is the fact that the Kobe Bryant-Nike relationship is no more—Complex broke the news that Bryant's estate did not renew the late superstar's Nike deal back in April. Although Vanessa Bryant implied that the door may be open for future negotiations, there has since been clear tension between sides which culminated with her criticizing Nike over leaked pairs of a Kobe 6 made to honor her late daughter, Gianna. So the fact that this sneaker, which celebrates Kobe's 2021 induction into the Naismith Memorial Basketball Hall of Fame, dropped at all, was a significant development. Predictably, the shoes disappeared quickly, with Kobe fans clamoring to get their hands on what could ultimately be one of his last Nikes to ever release. — Zac Dubasik
4. Nike SB Dunk Low 'What the P-Rod'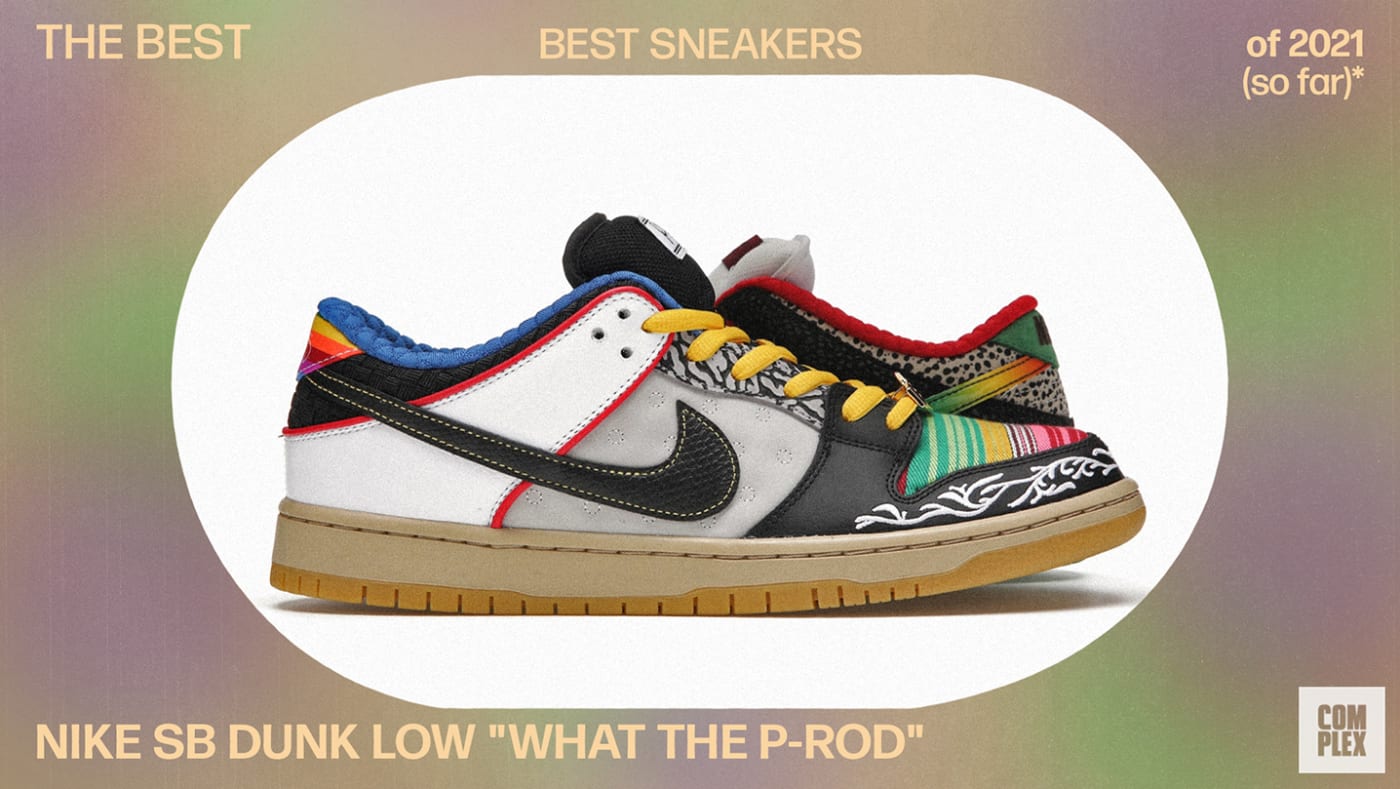 Release Date: May 24
Price: $150
Back in 2007, Nike SB was arguably in the middle of its prime. The eye-catching colorways of SB Dunks could seemingly take inspiration from anywhere, whether it be a beloved sci-fi movie franchise or the flying street rats that populate New York City. There were so many memorable releases that Nike SB decided to mash them together, 31 of them to be exact, to create the now-iconic "What the Dunk." Fourteen years later, the original version now resells for five figures, SB is experiencing its second wave of popularity, and the "What The" concept has become a staple in the sneaker design playbook. While the theme may be stale to some by now, SB's sequel to its 2007 original that released earlier this year proved that it can still work when executed correctly.
This time around, SB paid homage to one of the most decorated pro skaters ever, and the first skater to get a signature model with Nike, Paul Rodriguez. The "What the P-Rod" SB Dunk Low fused some of the most memorable releases from across P-Rod's 17-year tenure with the brand. The result is a mismatched amalgamation that tells the story of Rodriguez's Nike history from 2005's "J-Rod" all the way up to 2020's boxing-inspired SB Dunk High. Sure, it may not be quite as good as the original. Unfortunately, it will always inevitably be compared to it. But that doesn't mean it should be overlooked. If anything, SB should be commended for delivering another great take on the theme, the "What The" for the new generation. — Mike DeStefano
3. Supreme x Nike SB Dunk Low
Release Date: March 4
Price: $110
Supreme played a major role in Nike SB's rise to prominence in the early 2000s, so it's only fitting that it'd participate in the second act. And unlike 2019's series of jewel-Swoosh Dunks, 2021's rehash of the seminal streetwear brand's 2003 high-cut hit is one that actually resonated with fans. This time around, Supreme added the Croc overlays and gold stars of the aforementioned collab to an SB Dunk Low and covered it in four new colorways: Hyper Royal, Black, Barkroot, and most notably, Mean Green. It would be easy to discount the project as formulaic—a simple cash grab that added little to the duo's two-decade-long portfolio. In fairness, it's a hard point to argue against. But it's also a formula that works—once in 2003, and again in 2021. The original is remembered as a classic for a reason, and that styling combined with the nostalgia around the SB heyday worked just as well this time around. This time though, it played to a much broader audience, with resale prices hitting four figures right out of the gate. — Zac Dubasik
2. Trophy Room x Air Jordan 1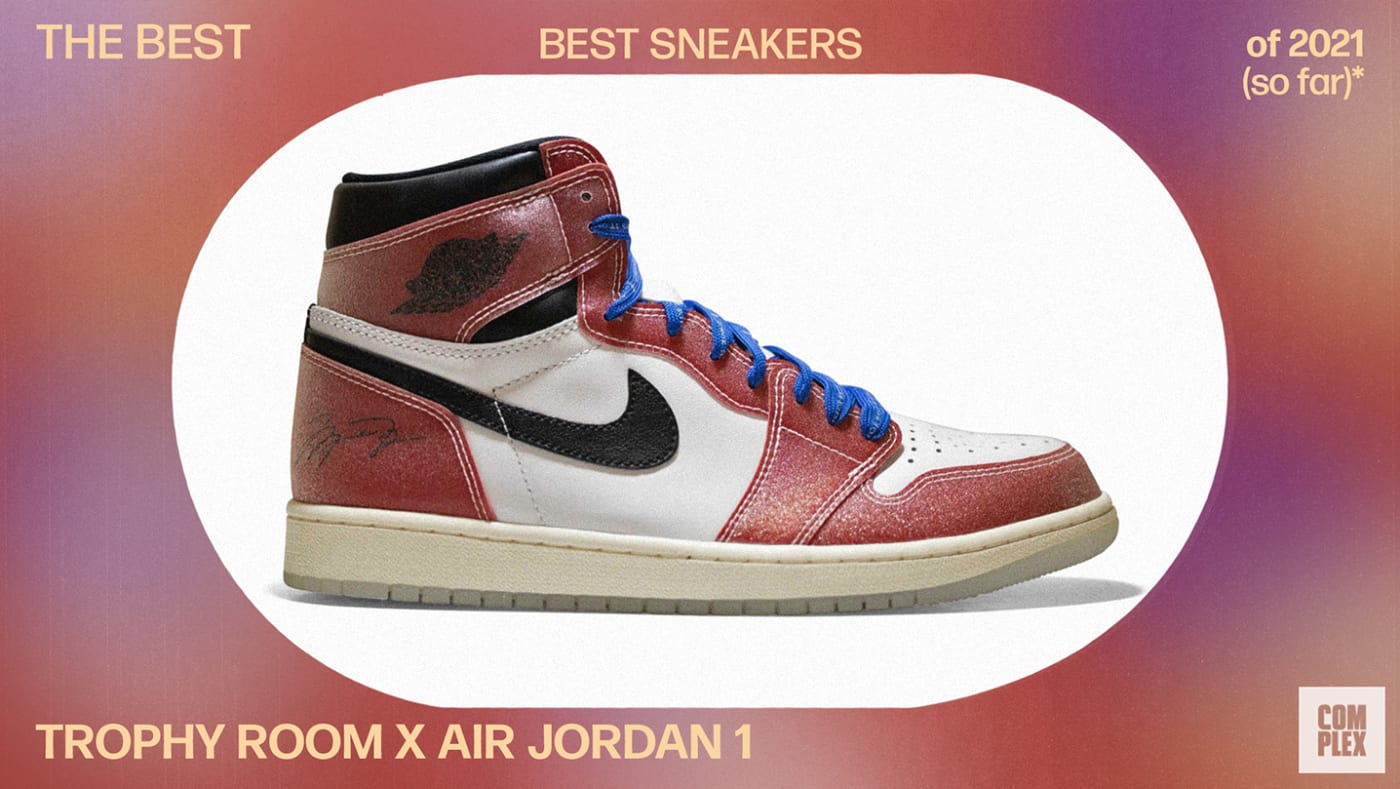 Release Date: February 10
Price: $190
What a sneaker. You'd be hard pressed to find another shoe that came with such grand expectations only to be bogged down in controversy. Did Marcus Jordan backdoor a significant portion of his stock to resellers for a big pay day? We can't say yes for sure, but the conspiracies and reports are all out there. So go read up on it. Are the shoes actually worth more if they come with the Blue Laces? That's for you to decide, too. Here's what we do know about the sneaker: Jordan's son flipped the "Chicago" Air Jordan 1 colorway with an icy motif to symbolize how MJ was "frozen" out of the 1985 NBA All-Star Game. The sneakers come with a translucent outsole that features the stars associated with the All-Star Game on it. There's also the text "Rumor has it" embroidered on the inside of the collar. On top of that, it comes with an original box design to fit the theme of the shoe.
This could have been one of the greatest Air Jordan collaborations we've ever seen. The shoes were limited to 12,000 pairs, low enough to make owning them feel special. But not limited enough that the shoe is completely unattainable, a la the Undefeated x Air Jordan 4s or Eminems. Marcus' connection to the brand adds a stamp of authenticity to the story. And all my interactions with him have been positive, but the murkiness attached to the shoe has turned many off not only the sneaker but anything Trophy Room is involved with. Sad part of it is, many who feel slighted that they didn't get the shoe wouldn't have gotten them anyway. That's still not an excuse for retailers to not be transparent with the consumers. At the end of the day, it's still one of the best sneakers this year. — Matt Welty
1. A Ma Maniére x Air Jordan 3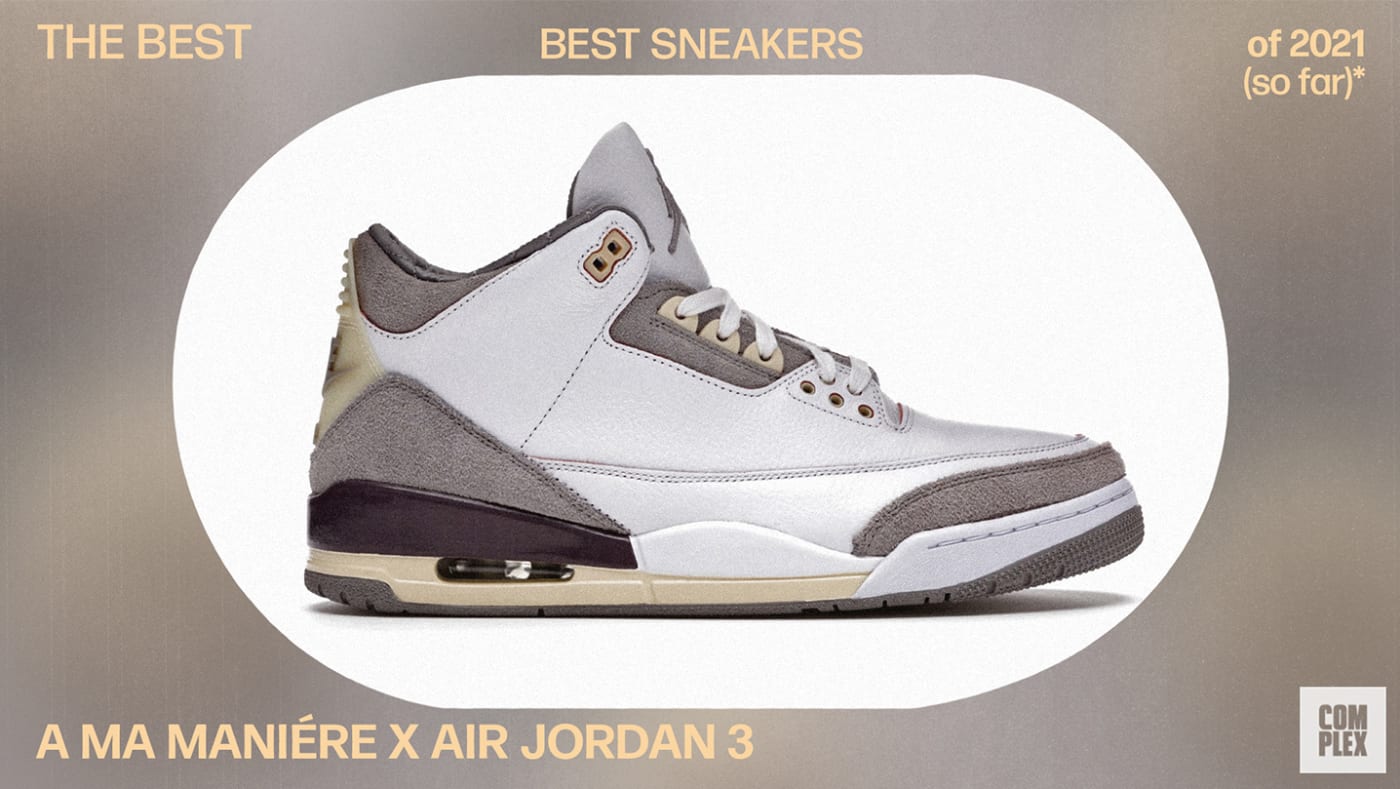 Release Date: April 28
Price: $200
The A Ma Maniére x Air Jordan 3 has it all. It's a premium, high-quality version of one of the best Jordans in an elegant colorway. It's a product of one of the best stores currently doing it and represents the vision of the store's founder, James Whitner. It's also been one of the more accessible hyped sneakers of the year.
Serving as a thank-you note of sorts to his mother, the collaboration uses the first Jordan model Whitner owned growing up and recrafts it with women—and the impact they have on everyone's lives—in mind. The sneaker was released exclusively in ladies' sizing, although a run up to size 16 meant (mostly) everyone could wear them. To cap the story off, A Ma Maniére released a "Raised by Women" video celebrating the role of women in Black families.
The leather and suede cuts on the shoe are among the nicest you'll find on an Air Jordan 3, but it's the intricate (and at times, hidden) details that make it truly special. The Jordan 3's signature elephant print overlays are replaced with hairy suede, the edges of the tumbled leather panels were left raw, and the lining is draped in a quilted satin. The colors are neutral, mixing shades of grey with an amethyst-inspired mauve and cream. Bend back the TPU heel tabs and you'll find two messages in Whitner's mother's own handwriting, and the lace aglets read "work harder," a phrase inspired by an A Ma Maniére employee's motivational screensaver.
Still, it takes more than a great design and meaningful story to make the sneaker of the year (so far). What tied everything together was the sneaker's rollout. From the jump, Whitner was adamant that he wanted the shoe to end up in the hands of people who really wanted it, and it's safe to say he and his team succeeded. The collaboration had multiple releases in decently high quantities, and even though it's impossible to please everyone, you're more likely to find Instagram comments praising the store's release method than you are to find complaints.
Per: Complex