NBC – SAN ANTONIO — Dozens of migrants were found dead in an abandoned big rig in San Antonio on Monday in what appears to be the deadliest human smuggling case in modern U.S. history.
The bodies of at least 46 people were initially found in the tractor-trailer in the sweltering Texas heat, officials said. Sixteen others, including four children, were hospitalized, San Antonio Fire Chief Charles Hood said.
On Tuesday morning, Mexican President Andrés Manuel López Obrador said the death toll had risen to 50. He said 22 of the dead were Mexican nationals, while seven were from Guatemala and two from Honduras. The nationalities of the remaining 19 people had yet to be confirmed.
López Obrador said the Mexican government would be providing assistance to the family members of the dead.
Three people were taken into custody following the discovery, San Antonio Police Chief William P. McManus said, though he added authorities did not know if they were definitely connected to the incident. He did not expand on their identities.
The grim discovery was made early Monday evening in an undeveloped area of southwest San Antonio near railroad tracks. A person who works in the area reported hearing a cry for help and spotted at least one body, officials said.
"We're not supposed to open up a truck and see stacks of bodies in there," Hood said.
McManus said the survivors lacked water and air conditioning. "The patients that we saw were hot to the touch," he said. "They were suffering from heat stroke, heat exhaustion."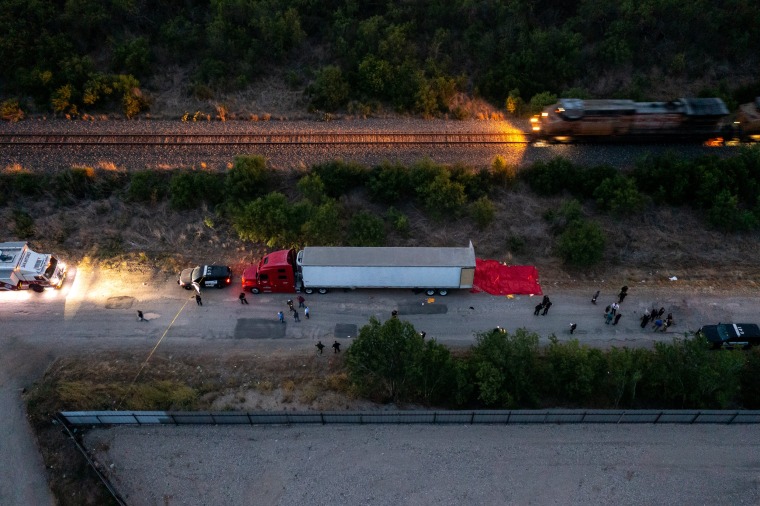 McManus said Homeland Security Investigations had taken over the investigation into the deadly incident. The heat is likely to be a focus, with temperatures climbing to 101 Monday, according to the National Weather Service.
The heat inside the trailer packed with people was likely to have been significantly higher than the outside temperature.
A committee of the National Association of Medical Examiners has recommended that bodies with temperatures of 105 or greater at the time of collapse be certified as heat-related deaths.
San Antonio Mayor Ron Nirenberg said the people who died had "families who were likely trying to find a better life."
"This is nothing short of a horrific human tragedy," he said.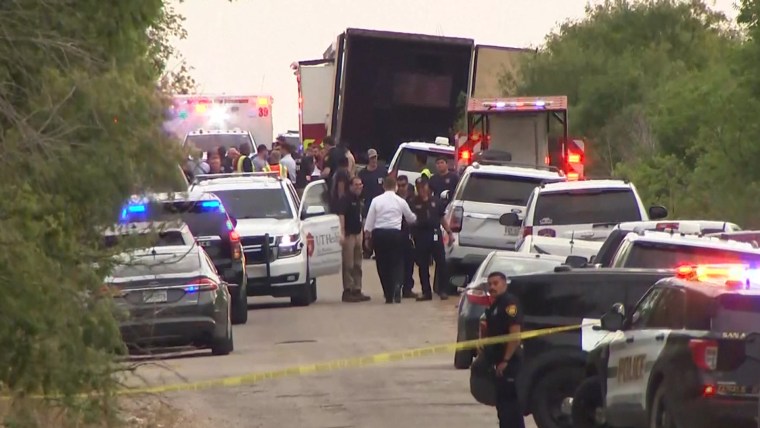 Secretary of Homeland Security Alejandro Mayorkas said he was "heartbroken by the tragic loss of life today and am praying for those still fighting for their lives."
"Far too many lives have been lost as individuals — including families, women, and children — take this dangerous journey," he said in a tweet.
You won't see this scene on the big screen. As Warner Brothers prepare to roll out the much-hyped "Barbie" movie, starring Margot Robbie, this summer, the real-life saga of the iconic doll's creator is more of a horror story than a Hollywood…
COLUMBIA, S.C. (AP) — A South Carolina school district said a ninth grader walking in a hallway was stopped during a moment of silence and not the Pledge of Allegiance, as the student had said in a lawsuit filed last month. Marissa…
Americans have a lot of opinions on where they think their rudest residents hail from. Stereotypes — or sports rivalries — often color these assumptions. In October and November, Insider and SurveyMonkey conducted a survey of more than 2,000 American adults, asking…