The criminal investigation is likely to focus on whether the boy's parents properly secured the weapon used in Friday's shooting at Richneck Elementary School in Virginia.
Jan. 10, 2023, 9:49 PM EST
By Antonio Planas and Helen Kwong
The 6-year-old boy accused of shooting his Virginia teacher Fridaywith a gun he took from home is unlikely to be charged, but his parents could be criminally culpable depending on if they properly secured the weapon, experts said.
The student's mother legally purchased the gun used in the shooting, according to Newport News police, but officials haven't specified how the boy got a hold of it or if it was safely secured.
Virginia, unlike Massachusetts and Oregon, doesn't have a law that specifies how to secure guns in a home, said Allison Anderman, senior counsel and director of local policy at Giffords Law Center to Prevent Gun Violence.
It does have a misdemeanor law meant to protect children 14 and younger from access to firearms, Anderman said.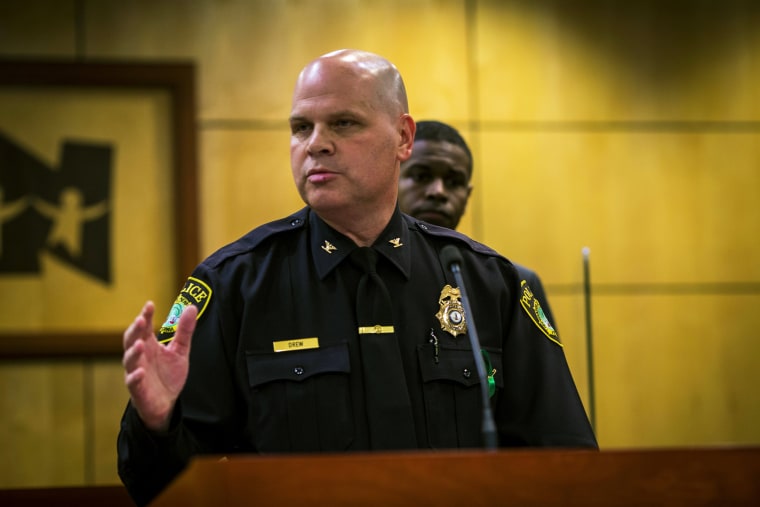 The boy, who hasn't been publicly identified because of his age, shot first-grade teacher Abigail Zwerner while she taught a classroom of about 20 students at Richneck Elementary School, authorities have said.
Zwerner, who was injured when the bullet went through her hand and into her upper chest, survived and has been hailed as a hero. She managed to safely escort students out of the classroom after she was wounded, Police Chief Steve Drew said Monday.
The boy shot Zwerner with a 9mm Taurus firearm he obtained from his home, Drew said. Determining how or if the gun was secured inside the home will be a "key element" for investigators, he said.
Drew told CNN on Tuesday that the mother could face charges under Virginia law, but added that there are many angles the investigation needs to cover.
When all the facts are gathered, any charging decision will be made in consultation with the Commonwealth's Attorney's Office, Drew said Monday.
During Monday's news conference, Drew mentioned only the boy's mother. He didn't mention any potential charges against the child.
Drew reiterated Monday that he thought the boy intentionally shot his teacher and said there was more than one round in the gun.
"This shooting was not accidental. It was intentional," he said.
The child was under a court-ordered temporary detention and being treated at a medical facility. He has 96 hours to appear in front of a judge who will determine whether he will continue treatment and what the next steps in the case are, Drew said.
Drew, police and the Commonwealth's Attorney's Office could not be reached Tuesday for comment. Authorities with the juvenile court declined to answer whether the child's case was being overseen by the court.
NBC News legal analyst Danny Cevallos said it's highly unlikely the boy will be charged, even in juvenile court.
"While theoretically, they could charge him with a crime, they'd have to prove that a 6-year-old was capable of forming the intent for attempted murder," Cevallos said. He added the boy is also unlikely to be charged because he is not competent to stand trial because "he can't assist his attorney and doesn't understand what's going on."
The child's parents could be charged with reckless endangerment or child neglect, Cevallos said.
In recent years, several adults have been charged in Virginia after a child has fired an unsecured gun.
In February, a mother was charged with child neglect after her 10-year-old was found alone in a Virginia Beach hotel room with a self-inflicted gunshot wound to the leg, police said. The child was expected to recover.
Also in February, a Newport News police officer was charged with misdemeanor allowing access to firearms by a minor about four months after a toddler accidentally shot and killed himself with his father's handgun, according to NBC affiliate WAVY of Portsmouth, Virginia.
In October 2013, the Virginian-Pilot reported the parents of an elementary school student in Norfolk were charged with child neglect after their son brought a handgun to school. The child showed his teacher an empty handgun magazine and was taken to the principal's office. The gun, but no ammunition, was found in the child's book bag, the newspaper reported.
A Louisiana woman who died after she became trapped in the walk-in freezer of an Arby's was a widowed mother of four on a temporary assignment for the fast food chain, according to a report. Nguyet Le, 63, worked as an Arby's general manager and was opening the eatery in New Iberia, La., about 30 minutes south…
Did you know that a large swath of the Mississippi school system still has to be desegregated by law? via Complex: More than 30 Mississippi school districts are still under federal desegregation orders, according to the U.S. Department of Justice's Civil Rights Division's assistant attorney general. NBC News reports Assistant Attorney General Kristen Clarke of the U.S. Department…
Diddy's eldest son, Justin Combs, was arrested Sunday morning near Beverly Hills after a cop saw a vehicle run a red light. The incident occurred around 8am and was photographed by onlookers. According to reports, the officer initiated a traffic stop, where Justin was found to be the driver. After a preliminary investigation, the cop…