Arguing against a bill that would offer free school meals to all students in Minnesota, Republican state Senator Steve Drazkowski said Tuesday that he had "yet to meet a person in Minnesota that is hungry" or doesn't have access to enough food.
Drazkowski argued that "hunger is a relative term," saying that he was "hungry" after having eaten only a cereal bar for breakfast earlier in the day. Among his criticisms of the bill is the lack of a definition of the concept of hunger.
A video of Drazkowski's comments has been viewed more than 1 million times on Twitter.
The Democrat-sponsored bill HF5 passed the Minnesota House in a 70-58 vote in February and was approved by the state's Senate on Tuesday in a 38-26 vote. Some Republicans joined Democrats in voting to pass the proposed legislation. The bill will now be sent back to the Minnesota House with some amendments.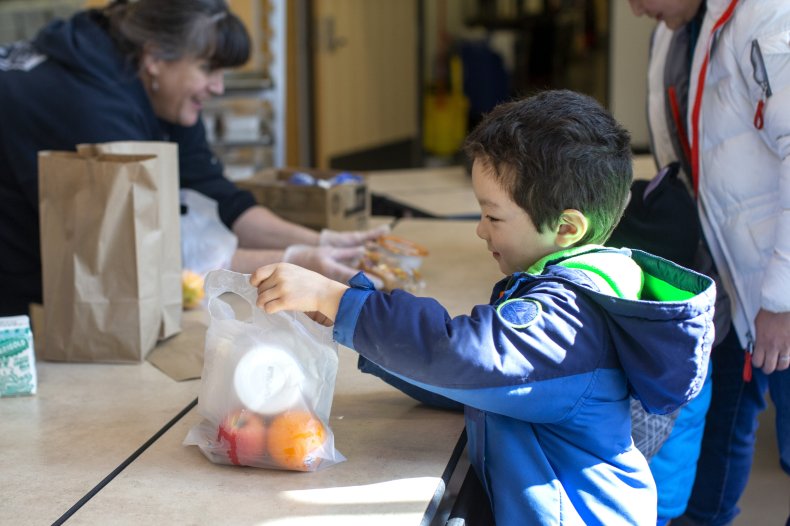 The bill will guarantee free breakfast and lunch to all students in Minnesota schools, regardless of their household income and requirements set by the federal government. Under the bill, the state would bear the cost difference of every student who doesn't qualify for free or reduced-priced meals under the federal program. The total costs are estimated to be $388 million in the next two-year budget.
"Feeding kids at school is the right thing to do," Democratic state senator and the bill's chief author, Heather Gustafson said on Tuesday, as reported by CBS News. "Being hungry makes learning almost impossible. There is no worksheet or assignment, test or project that will matter to a student who hasn't had anything to eat."
While HF5 doesn't contain a definition of hunger, the Food and Agriculture Organization of the United Nations (FAO) defines the term on its website as: "An uncomfortable or painful physical sensation caused by insufficient consumption of dietary energy. It becomes chronic when the person does not consume a sufficient amount of calories (dietary energy) on a regular basis to lead a normal, active and healthy life."
People might not feel hunger by definition, but they can still be negatively affected by food insecurity when they don't know how long their food will last, the FAO states.
Hunger Solutions Minnesota, a statewide hunger relief nonprofit, says 5,505,100 Minnesotans—a record high—visited food shelves in 2022. That's nearly 2 million more visits than in 2021 and 1.7 million more than in 2020. According to the organization, one in four food-insecure children fails to qualify for support under current federal programs.
"We know giving students a breakfast and lunch won't solve every problem in education, but school meals are an incredibly effective intervention. Research shows that not only are well-nourished children better learners, but they are also better test-takers and more active participants in school—more likely to arrive on time, to behave and be attentive in class," Gustafson told Newsweek in a written statement.
"Universal school meals helps students learn, saves money for families, and reduces food insecurity in our community."
She added: "Sen. Drazkowski's comments are disconnected from reality. In fact, in his senate district alone, one in five students qualify for free and reduced priced lunch. I have no idea why he said that but I don't know why he says a lot of the things he does."
Per: Newsweek
Agroup of conservatives handpicked by Governor Ron DeSantis to oversee the governance of Walt Disney World in Florida have lashed out after discovering their predecessors signed an agreement that strips the new board of most of its…
Lauren Boebert has called for the Department of Education to be abolished as part of a bid to get "the federal government completely out of public schools." The House Republican was speaking on…
Alegal expert has tweeted there is nothing to suggest that the cancellation of Wednesday's grand-jury session in New York will affect the investigation into the Stormy Daniels hush-money payment arranged by Donald Trump. The jury has…