Anew D.C. judge poised to make oversee the Justice Department's special counsel investigations into former President Donald Trump, and ultimately play a key role in whether or not Trump is indicted, was once a roommate of Trump's own Supreme Court appointee Justice Brett Kavanaugh.
This week, Chief Judge Beryl Howell, who has supervised the federal grand jury investigating Trump's efforts to overturn the 2020 election in a post she's served since 2016, will be succeeded by Judge James "Jeb" Boasberg.
When Boasberg, an Obama appointee, is sworn in as the new chief judge of the U.S. District Court in Washington, he will begin his seven-year term at the epicenter of the federal probe targeting Trump.
A well-known judge in D.C., Boasberg was also a law school roommate of Kavanaugh at Yale University when the two lived in a home with six other students. The men reportedly remain good friends and the eight-person group continues to organize annual trips together.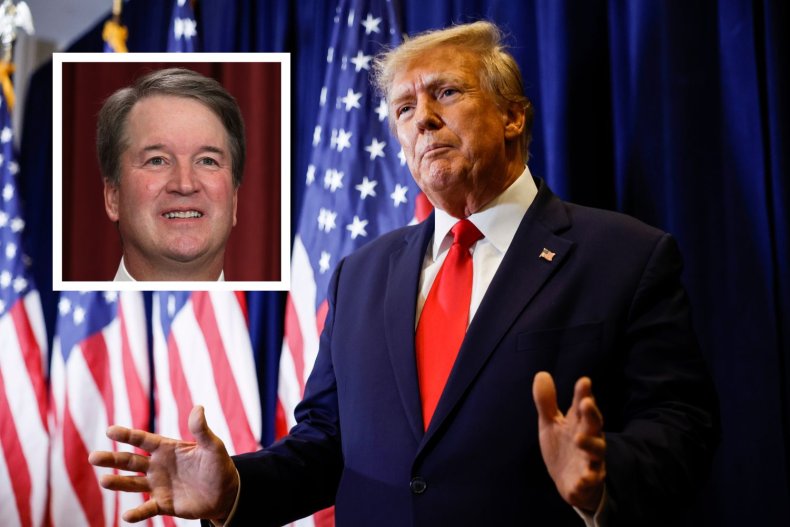 Ahead of Kavanaugh's confirmation to the Supreme Court in 2018, the New York Times reported: "Mr. Kavanaugh's talents did not always stand out at Yale, where his class was full of academic stars and would produce several federal judges. One of them, James E. Boasberg, now a United States District Court judge in Washington appointed by President Barack Obama, lived in the house and remains a close friend of Judge Kavanaugh."
Much of the work of the federal grand jury has remained behind the scenes and Howell has previously blocked requests from media organizations to unseal her rulings on the matter, so it's unclear whether the gavel-passing will do much to change the course of the investigation.
Howell described her successor as someone "well suited to be the next chief judge," citing his experience on the bench, legal expertise and ability to juggle various cases in an interview with The New York Times.
Boasberg told CNN that he hopes to keep a similar approach to his predecessor, saying "neither of us will be TIME's person of the year."
Asked about his new role in the Trump probes, a spokesperson for Boasberg told Newsweek that the judge declined to comment.
Special Counsel Jack Smith's investigation has been reportedly ramping up in recent weeks. Smith has subpoenaed some of Trump's inner circle, including former Vice President Mike Pence, the former president's eldest daughter Ivanka Trump and former White House adviser Jared Kushner.
The turnover also coincides with the escalation of another Trump investigation in Manhattan on unrelated charges.
Boasberg was previously a homicide prosecutor in Washington and has been commended by both Democratic and Republican presidents. Before being nominated to the federal bench by former President Barack Obama in 2011, he had been appointed to the D.C. Superior Court just 11 years earlier by former President George W. Bush.
The judge's new role in overseeing the DOJ probes is not his first run-in with Trump. In 2017, Boasberg dismissed a lawsuit from the Electronic Privacy Information Center seeking the release of Trump's personal tax returns, ruling that only Trump or Congress could authorize such a release.
Boasberg is also not new to legal matters regarding the riot at the U.S. Capitol on January 6, 2021, that sought to block Congress' certification of President Joe Biden's 2020 victory.
During a sentencing hearing in October 2021, the judge imposed three months of home confinement on one of the rioters involved in the Capitol attack, telling the defendant, "I can't emphasize enough, as I've said before, that the cornerstone of our democratic republic is the peaceful transfer of power after an election."
"What you and others did on January 6 was nothing less than an attempt to undermine that system of government," Boasberg said.
Agroup of conservatives handpicked by Governor Ron DeSantis to oversee the governance of Walt Disney World in Florida have lashed out after discovering their predecessors signed an agreement that strips the new board of most of its powers.…
Lauren Boebert has called for the Department of Education to be abolished as part of a bid to get "the federal government completely out of public schools." The House Republican was speaking on Friday…
Alegal expert has tweeted there is nothing to suggest that the cancellation of Wednesday's grand-jury session in New York will affect the investigation into the Stormy Daniels hush-money payment arranged by Donald Trump. The jury has been…