Alegal expert has tweeted there is nothing to suggest that the cancellation of Wednesday's grand-jury session in New York will affect the investigation into the Stormy Daniels hush-money payment arranged by Donald Trump.
The jury has been hearing behind-closed door testimonies as part of the Manhattan District Attorney's office's probe. Members did not meet on Wednesday as scheduled, with no reason disclosed.
The cancellation meant that any possible historic indictment against the former president, rumored to be announced in the coming days, may not arrive until next week. It has been reported by Insider that it is unlikely that the grand jury will meet on Thursday either.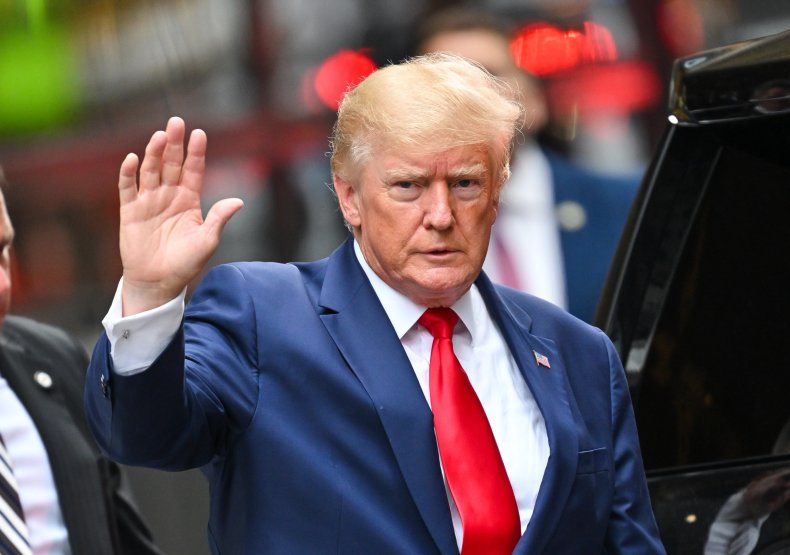 Prosecutors deem as a campaign violation the $130,000 payment Trump told his former attorney Michael Cohen to pay Daniels. The sum was to keep secret an alleged affair between the adult film actress and the former president ahead of the 2016 election. Trump denies wrongdoing and denies having an affair with Daniels.
The grand jury in the hush-money investigation meets on Mondays, Wednesdays and Thursdays. Delays, scheduling conflicts and other interruptions are not unusual, and the reason for this week's canceled sessions could be unrelated to the investigation.
"We can't confirm or comment on grand-jury matters," a spokesperson for the Manhattan district attorney's office told Newsweek.
In a series of tweets, former U.S. attorney Harry Litman wrote that the cancellation of Wednesday's session does not mean there is "hesitancy" from the grand jury to vote to indict Trump. However, it may have been ordered by Manhattan DA Alvin Bragg.
"So what was the DAs office reasoning? Fundamentally, we can't tell, but I think we shouldn't discount the possibility that Bragg just felt he needed another day to assess a decision that could only be made when the grand jury is in session," Litman wrote.
"It could be to shore up the evidence in the grand jury, but it strikes me equally likely that it's connected to the trial. Perhaps there's a witness that Bragg's team really wants to lock in on a certain point. (A wild possibility here would be to call [Trump Organization CFO] Allen Weisselberg, who remember Cohen testifies is ordered along with him to do the financial details of the hush money payout.)
"Or they want to make a solid record of having informed the grand jury of certain evidence for a defense that they anticipate Trump's making down the line," Litman added.
Litman, a former deputy assistant attorney general, also wrote that Wednesday's cancellation could be a more "pedestrian" reason such as one of the jury falling ill.
"I think the main point however is that it is less likely that Bragg is having fundamental doubts or second guesses about seeking the indictment. We are very very far down the line and there have been so many concrete signs," Litman added. "To decide now not to bring the case would be like throwing into reverse a train going 200 miles an hour."
It has long been thought that the grand jury's work is drawing to a close. Trump was asked to testify to the grand jury in what was one of the clearest signs that an indictment could be forthcoming. However, he declined to do so.
Cohen is another key witness for the prosecution. He was convicted in 2018 of federal charges in connection to the hush-money payment, and has testified to the grand jury in New York as part of the probe.
Per: NewsWeek
Marjorie Taylor Greene called liberal haters "so stupid" after an activist group posted a video of her boyfriend dressed in drag during a Dallas morning TV newscast. The 48-year-old Republican congresswoman from Georgia was responding…
Donald Trump snubbed his wife Melania in his bizarre Mother's Day message Sunday, instead using the happy occasion to rip into his political enemies on the left. In a typically blustery tirade posted…
Former President Donald Trump on Tuesday was found liable for sexual abuse and defamation — and ordered to pay more than $5 million in damages — by a federal jury in writer E. Jean…